With a few weeks until first friends arrived, we spent a lot of time exploring nearby anchorages which provided some sort of escape from the day in day out grind of getting this boat ready for a trip to Australia. But just as it seemed like we were getting on top of things, new problems would arise, adding to the work list.
Rendel, the Yanmar tech from Port of Spain, visited the boat to check the new engine installations so they could be signed off for warranty purposes. He brought his bag of instruments and tools and put the engines through their paces with various tests. Including minutes at wide open throttle, both in and out of gear.
The engines passed with flying colours, but the props were a little overpitched, not hitting target RPM at full throttle. Falling a couple hundred RPM short. So a few big breath holds under the boat adjusting the pitch soon fixed that. Dropping the pitch from 22 to 21 degrees
The Hindu festival of Diwali is widely celebrated in Trinidad by the thousands of Indian descendants on the Island. An entire suburb gets involved, stringing lights and lighting millions of candles in their yard. We thought we'd go for a look.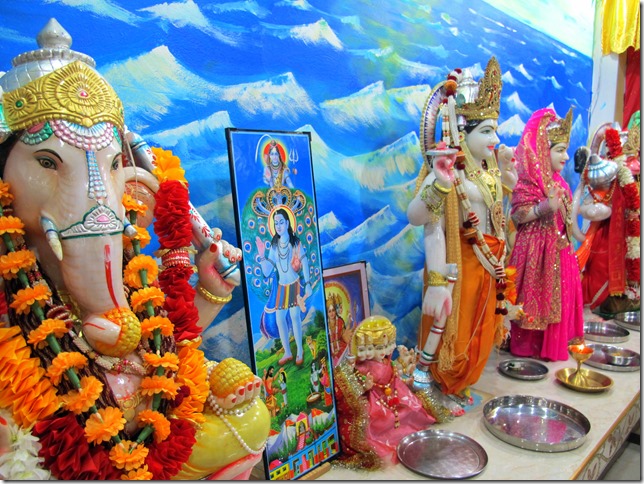 Inside a Hindu temple thing.
I came for the fireworks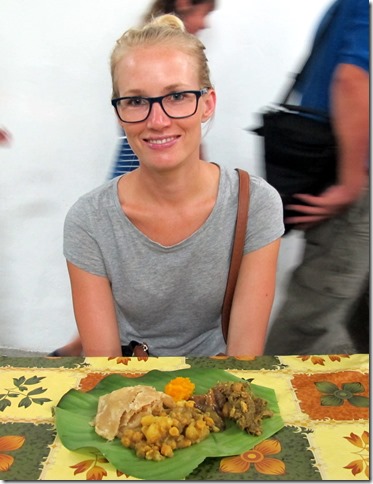 Bucko came for the food
The next day we got up early and made for the island Chacachacare. First good look at the sails
Happy Bucko jumping for joy pleased to be out of Chaguaramas, even just for the weekend.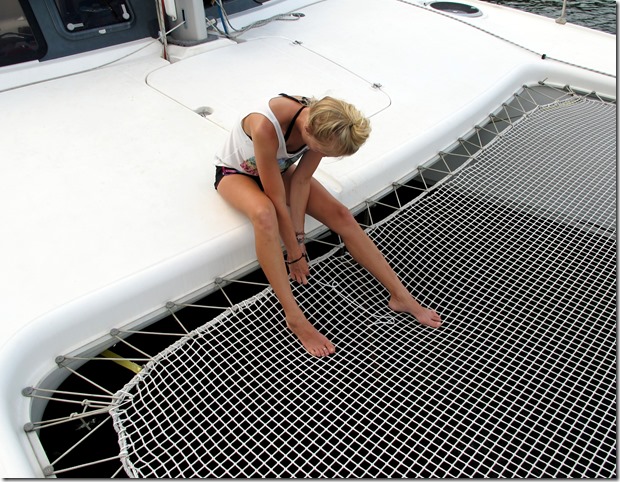 Sad Bucko stitching together the broken trampoline.
We headed down to Chacachacare with Moana Roa, an Australian family who decided to pack up their lives and go cruising for a couple of years. Cowabunga on the right.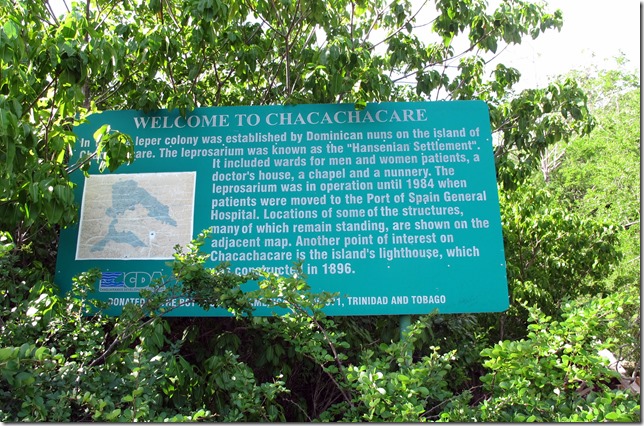 Saves me explaining the history.
What's left of the Dominican Nuns residence
Space dock.
Trinidadian street artists are the greatest around. Here is some of the best grafitti I have ever seen.
Not to be outdone, the kids from Moana Roa and from Swedish Boat Elin add their work
Once upon a time these would have been awesome houses with views to suit. But after 40 years of rot, the floorboards can barely hold your weight.
The Jungle is well on its way to taking back the land
There are all sorts of stories about ghosts and whatever. A Nun topped herself years ago in the chapel and they say she has been taking care of the place since. Bucko wouldn't let me anchor to close to this place cause its scary
There are dozens of big buildings scattered throughout the island, most of which you can't see until you run into them
This is where a bowlegged Leper lay to rest… probably not.
Beach cleanup day… HUGE success..
Gotta love a third world country where no one gives a shit.
La Tinta Bay. In the distance the mainland of Venezuela. There is a very active pirate region only a few miles away. Just last week an elderly couple in the 70's were boarded, beaten and robbed 5 miles off the coastline. Sadly this seems more common than not these days. For this reason (and no insurance), this is the closest we'll be seeing the country of Venezuela.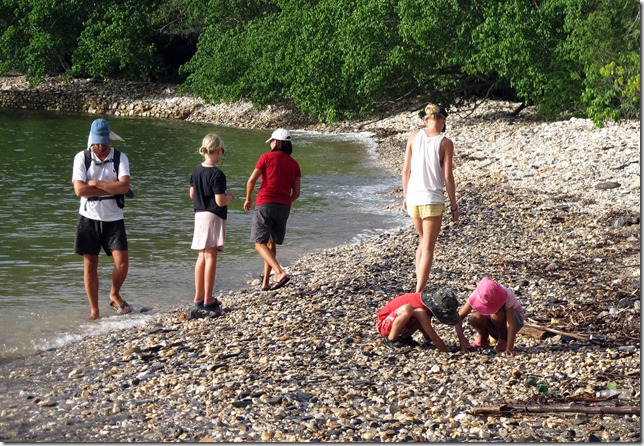 Kalle and Sonia looking after the kids
Up the rig wondering why the wind instrument isn't working properly. Bucko wondering how to drop me and make it look like an accident.
Out with the new and in with the new. Replacement membranes and housings.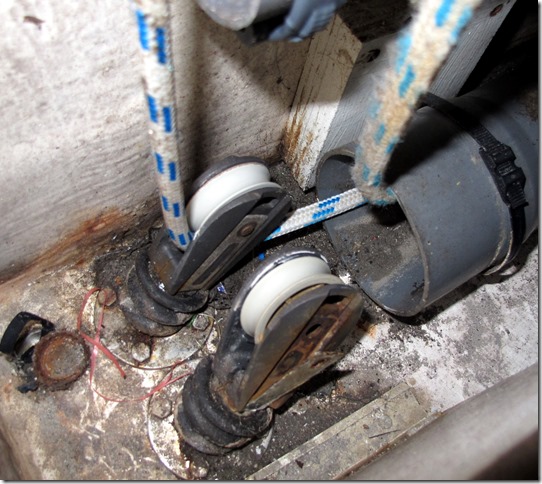 One of the steering cable turning blocks decided to let go at an awkward time. Not one to fuck around, everything has been replaced.
The guys off the boat of Elin were kind enough to lend us (Bucko) a deadly sewing machine. Bucko straight to work making an outboard cover.
Fitting her work of art
She's also made throws to save the upholstery from a certain death.
What does a third world country do with its old boats. Nothing, just tie them all together and watch them sink.
The autopilot got a strip down and a clean up.
Time to install the first of two new alternators on the engines. The standard 80Amp Hitachi alternators are shit, lucky to get 60Amps out of them once they've warmed up. I installed new crankshaft and water pump pulleys which allowed a 10 rib serpentine belt to replace the standard V belt. This allows me to install a monster 120Amp alternator on each engine. Add Balmar Regulators and good AGM batteries and it all comes together in a nice package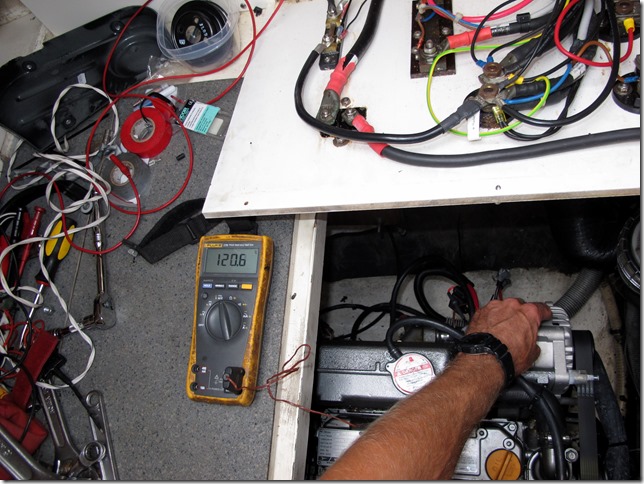 Alternator commission. These things get hot… 120C.
Butterfly clips back in fashion
Bocas light house at Chacachacare. One of the last full time manned lighthouses in the world, not just by one, but two dudes… I couldn't imagine what 2 blokes could do for "work" all day…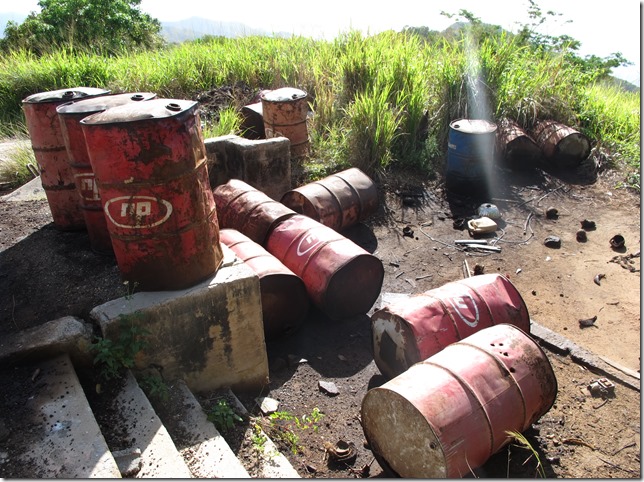 Maybe clean the place up a little.
Looking down into the anchorage.
Paparazzi
The Corbeau, or black vulture. There are hundreds of these buggers flying around. Probably still looking for some poor Lepers arm to chew on.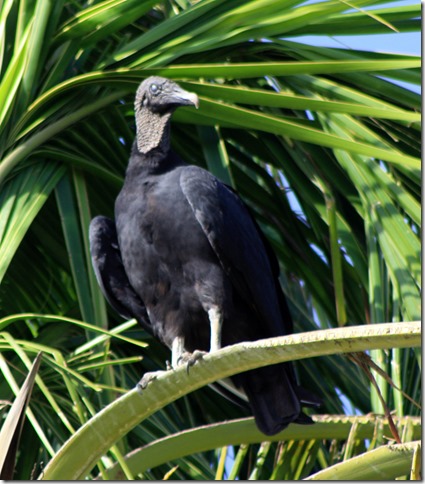 Good looking bloke.
We rented a car and went for a road trip around Trinidad with Kalle, Emma, Maya and Love (pronounced Loovay) from the boat Elin.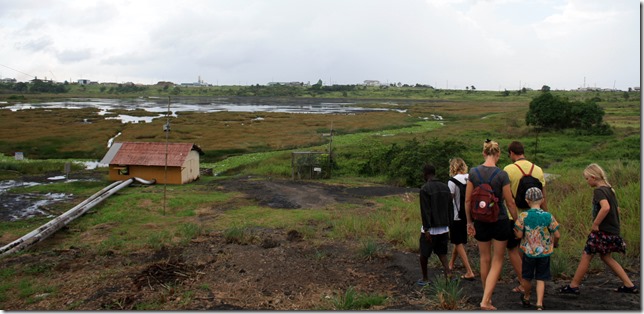 About an hour south of Trinidad you come to the town of La Brea. It is located on the largest natural deposit of Asphalt in the world. The town sits on an unstable area where the houses and roads have twisted over time
They excavate about 300 tons a day out of the lake, process it and export it all around the world
Not a crease to fall into.
Back in Scotland bay…. Satans gift to the planet earth… The jetski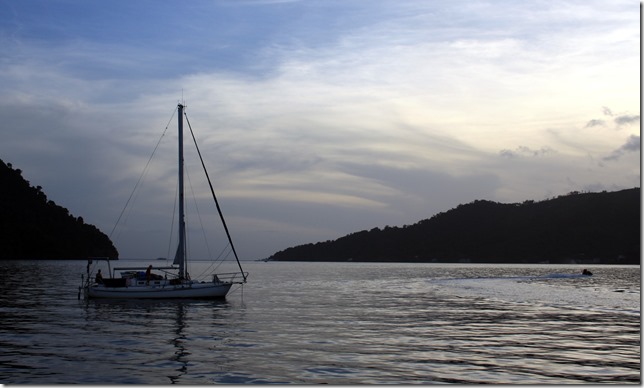 We said goodbye to Elin as they head north on their way to Cuba.
These guys…
See the ghost?
We went for a hike to the southern end of the island and stumbled across this little beach.
Fresh turtle tracks from the night before where they've come up to nest.
Sunset in Sanders Bay
Stupid superyacht spoiling our peace and quiet. Bucko set to attack
Rave Lizard
Sharing the anchorage with Eric and Lyn on Amarula from Yamba
As we count down the days until first guests arrive, we enjoy one of the last sunsets we'll have from the anchorage in Chaguaramas
So after 8 weeks of working on the boat nearly every day, it is fair to say we have transformed it into a home we like and can trust. It's now ready to share with friends. We will leave Trinidad shortly, bound for Grenada and further islands beyond that.