Up until this point it has all been work work work. Now, its time to put down the tools, sit back and admire everything that has been achieved. Three friends flew in on the same day. Scotty Webster, long time friend and fellow sailor, and his girlfriend Ramona from Austria. Both of which have lived in Munich for years. Other mate Ollie Taylor, who I met at McGregor College back during the Uni days brings our numbers up to 5.
While waiting for a weather window to start our movements north, we headed back down to Chacachacare to let the new crew members settle in. Webbo brought over a couple fishing reels amongst many other trinkets, and no sooner than the anchor was up, the lines were in the water.
Ollie grew up in western NSW on a Sheep Station. So sailing 101 classes were introduced.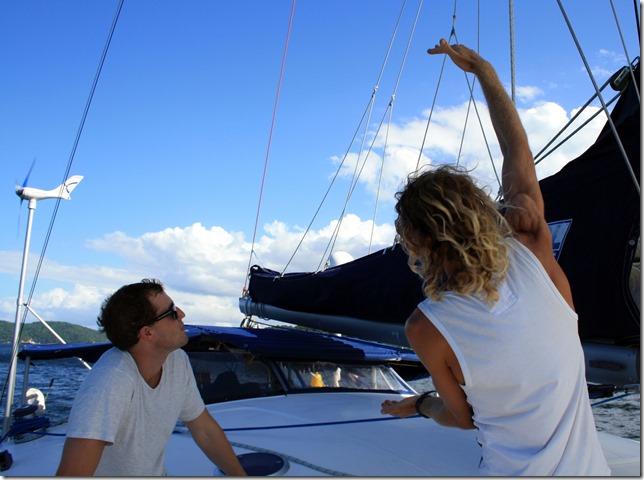 "First fish will be this big"
Ramona settling into routine in no time.
Anchored up again with Amarula
A quick trek to the lighthouse.
Ramona scaling a palm tree for a better view
Everytime we walk/drive/see a cemetery Bucko looks over at me with a knowing look on her face just waiting for me to say "Dead Centre of town"
Ramona goes down in the record book as first fish caught on board. And what a beauty.
I told Ollie over email that I wanted him to bring me a BBQ with him from Australia. The email thread went as follows: AP "I want a BBQ, can you bring me a BabyQ" OT "Are you fucking serious. AP "Do I look serious?" OT "Can you even take them on a plane" AP "You'll find out" So now we have a BBQ. Well done Ollie. And with a bit of running around chasing gas bottles and a regulator… it works.
Ollie in the galley. They built this boat around a bloke around 5'11"-6". If your any taller you have to stick your head out the conveniently placed hatch in the galley.
Webbo admiring the jerry can collection. With the weather looking good to leave, we load every available space with diesel and fuel. Not because we need to carry it, but because it is cheap. There are 3 ways to acquire Diesel in Trinidad, 2 of which are illegal. We chose the illegal ways. Either pumping it yourself at the service station getting the subsidised prices for the locals. Or heading to some illegal Venezuelan fuel station around the corner. Both the same result with Diesel setting you back around AUS$0.25 a litre and fuel a little more than that. I went to 6 KFCS over the course of a fortnight to acquire the old yellow oil containers. Also gave me an excuse each time to get a 2 piece feed.
And last but not least. RUM. Cheap duty free rum. 30 litres of Black Label Rum. About $300. Should last a couple months if we keep Bucko away from it. So all cleared out from Trinidad we got up early at 2am and started our 80nm trip to Grenada,
Sunrise as we passed the Hibiscus Oil rig.
We had near perfect conditions for the first leg. 15-20 knots on the beam and the boat comfortably doing 7-9 knots.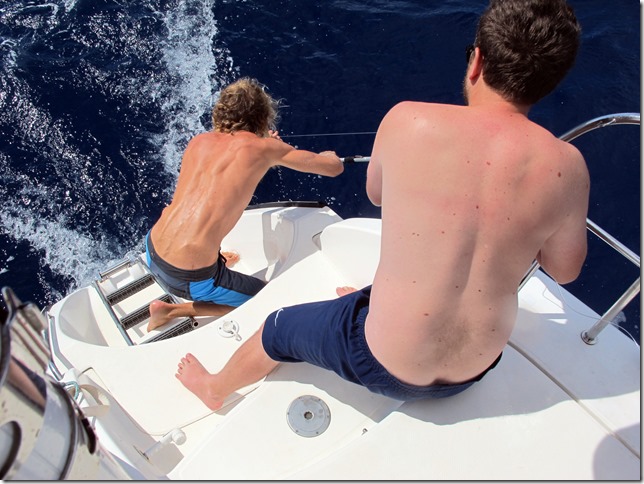 It didn't take long. First decent fish.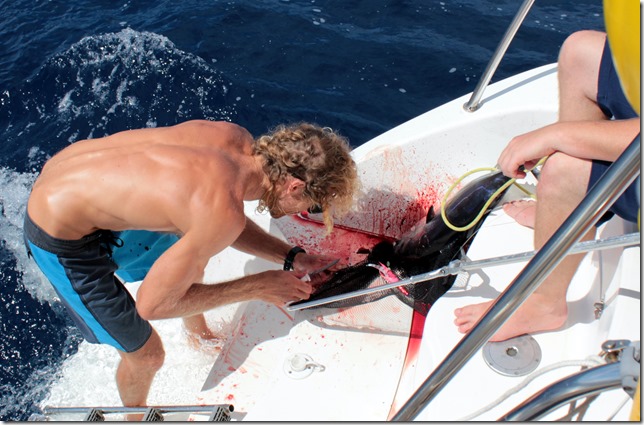 The usual bloodbath follows.
No one put their hand up to eat the still beating heart.
Webbo had been harping on for days about the fish we were gonna catch. At least this shut him up for a while. Well done Webbo. Nice sized skipjack Tuna
There were many guesses what the hell this was from a distance. Some drilling platform destined for god knows where
Captain Ollie soon made the autopilot redundant.
Land ho with Grenada in the distance.
After a perfect trip, we head into the bar at Prickly Bay for beers and Trivia night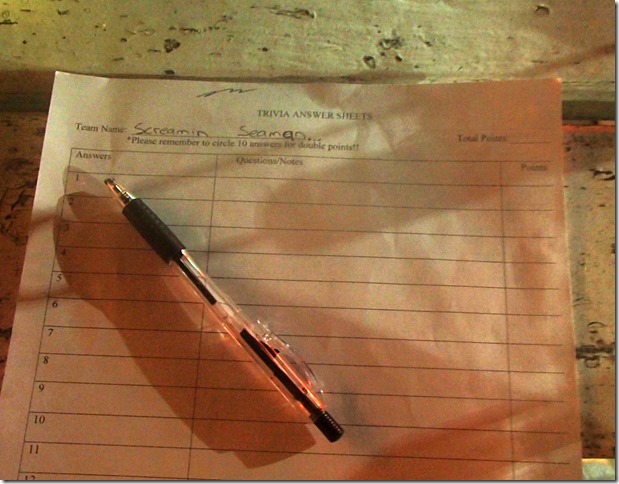 As if you wouldn't call your trivia team "Screamin Seaman"
The next day we rented a driver for the day to take us for a tour of Grenada. Annendale falls in the middle of the Island.
The team having a quick dip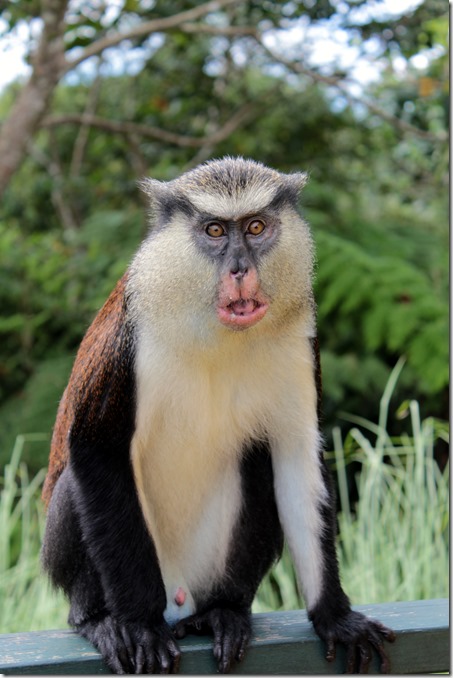 Mona Monkey. Lipstick and all.
Monkey left, Ollie right
The were two attractions on the island we wanted to see. The first was for the girls… An organic cocoa plantation. Bucko above fondling a Cocoa bean on Belmont estate.
It was actually quite interesting the process from pod to Cadburys chocolate.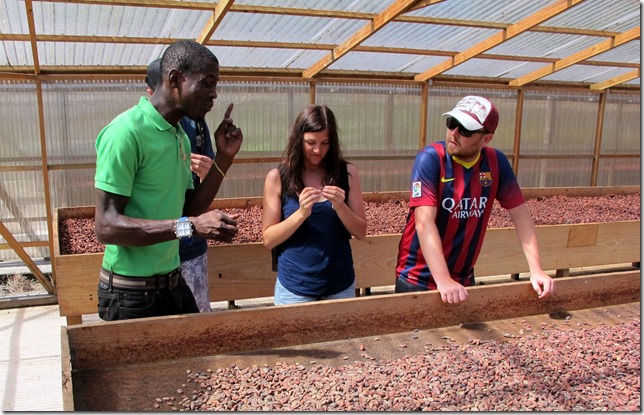 Tour guide Kelly giving the run down
Cocoa beans drying
This is what us boys got excited about. Rivers Rum distillery… This distillery was started  way back in 1785 and not much has changed since. A tour cost $2 and allowed us to drink as much rum as we wanted.
They have the oldest working water wheel in the Caribbean.
They use it to crush the cane twice to remove the cane juice. The wheel itself is 230 something years old.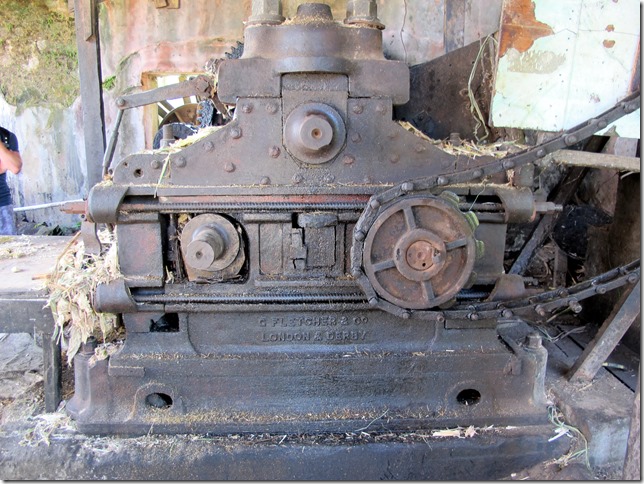 They built shit to last back then. This press still going hard.
The cane juice is brought to the boil in various copper pots and once the right sugar concentration has been reached, it is pumped to the fermentation tanks
Here it ferments until it reaches about 14% alcohol
The liquid is then distilled.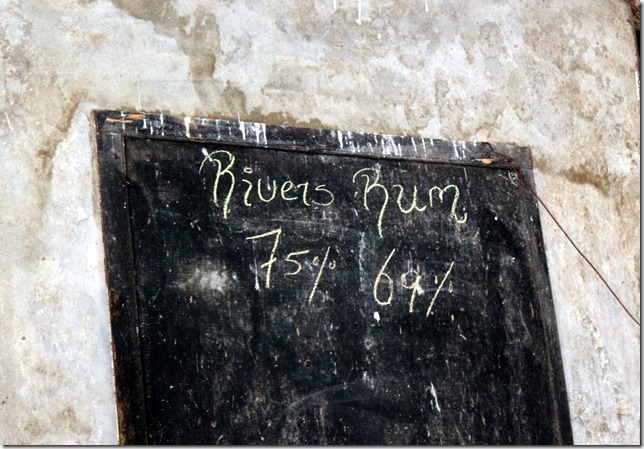 They produce two products. Really strong, and really fucking strong. Both clear, un-aged rum. That's right, 75%.. and an aeroplane friendly 69%. Needless to say its good for paint stripping, cleaning the windows and destroying brain cells. An awesome place to visit.
Back on board for tuna fest 2013. What better way to wrap up a day than fresh Sashimi and Rum strong enough that the Ice sinks in it.
The Weber getting its virgin cookup. Marinated tuna loins.
We headed around to Hog island the next day to get some sand between our toes. Popcorn and beers on the beach
Rogers bar
Quick snorkel in search of some crays.
Didn't take long to find these little buggers.
We purchased some fresh fish off the local boys for next to nothing. Webbo baking these bad boys on the Weber. Webbo and Weber, a formidable combination.
We went in and met bar owner Roger, sharing many rums/paint strippers while Webbo discussed world politics with other yachties.
Up the rig again for an inspection. Looking out over the anchorage at Hog Island.
We made our way for the Capital St Georges. "It is that way isn't it?"
Nice little Barracuda for dinner
Main down as we arrive in St Georges. Have a look at those flowing locks.
Oh my god its a double rainbow
The Carenage in St George
We took a stroll up to Fort George. Moni, Bucko and Webbo enjoying the view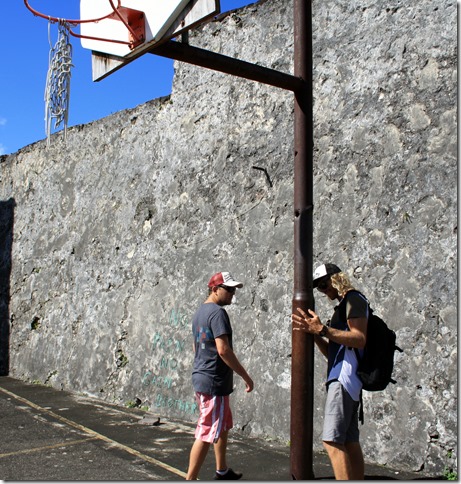 Grenada spent a few years under left wing leader Maurice Bishop who tried to turn Grenada into a socialist state. Eventually the army took Bishop prisoner and executed him and half his cabinet by firing squad against the basketball pole above, which has the bullet holes to prove it.
Nice day to shoot a cannon
Meatfest
I woke up one morning to some grunting and groaning, to find SS Cowabunga giving birth to a baby boy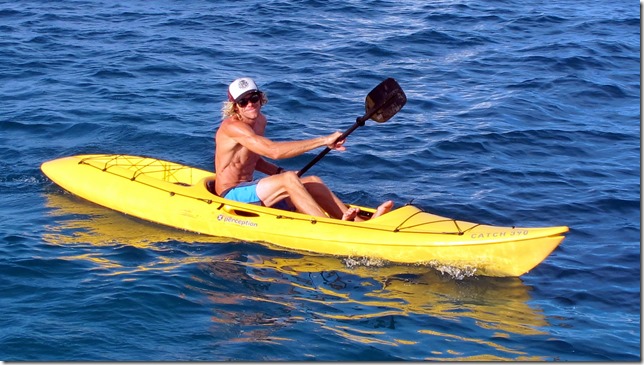 His names Trev, named after none other than Trevor Hendy. Fully equipped with storage, and double rod holders.
Back in the galley Bucko has mastered the art of baking bread.
And in the vege patch, Coriander wins the first sprout prize, beating Basil, Chives and Parsley to the title
Trev the one man Kayak becomes a one and a half man Kayak
Bucko refuses to call Trev by his name and refers to him simply as "The Kayak". Here they seem to be bonding.
Ky Hurst returning from a paddle and Ironman event win.
Captain Moni at the wheel as we leave Grenada behind bound for the Island of Carriacou.
Arrival beers in the Lambi Queen Bar
There was a massive 12 inch northerly swell rolling into the anchorage and setting up some nice waves on the reef. Trevs not one to miss an opportunity.
Just try and wipe that smile off my face.
Webbo's idea of a nightcap
After 2 weeks our green bananas are FINALLY taking on some colour and becoming edible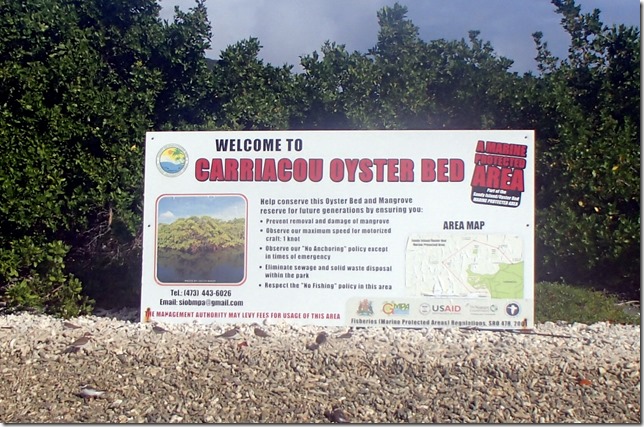 The Mangrove swamp in Tyrrel bay is home to a type of Mangrove oyster.
Trev and I went and explored the pristine national park.
Local guy who goes by the name Warrior with his mutt "Doberman" next to him, offered to fetch and open a couple dozen of these oysters for us to try so long as I poured him a good rum while he did it. He said my first rum was weak, so enough fucking around, I opened up the recently acquired Rivers/paint stripper rum… It would of been a long paddle home for the guy.
Quite nice with a squirt of Lime.
Just around the corner from Tyrrel Bay is Sandy Island. A awesome national park. This place is normally busy, but it was blowing 20-25 knots which meant we had the place to ourselves.
With Trev, Moni and Bucko playing support, we took all the kite gear over to the beach
Zinc on
I recruited this bloke to take some aerial shots of us and the boat.
It's been a long time since the kites have been in the air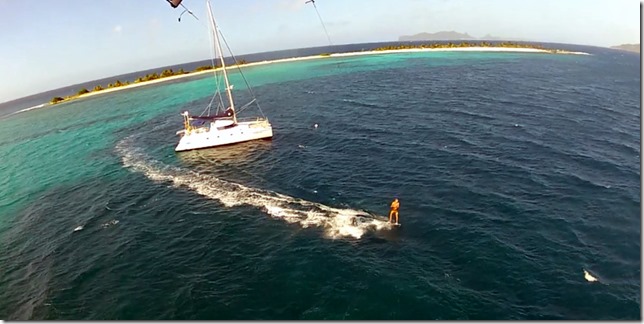 SS Cowabunga all alone in this beautiful spot, leaving us tons of room to kite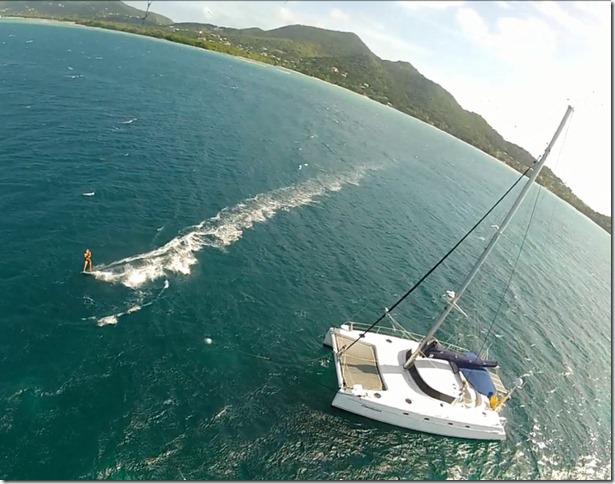 Give credit where credits due, Webbo threw himself in the deep end and came out on top.
The Slingshot 12m VS the Wainman 9m
Paddling out for some photo duties while Webbo loads up
Thanks Ollie and Moni for playing photographers. With Ollie foaming at the mouth, lessons have been booked in Union Island and the roles will be reversed.
Bucko and Trev enjoying the turquoise waters.
Stupid charter boat comes and parks in the middle of our run
Bucko cleaning up the mess as we wrap up our days in Sandy Island and make a move for the biggest city on Carriacou, Hillsborough. Here we checked out and then made our way to a new country. St Vincent and the Grenadines.