The leg from the Galapagos Islands to the Marquesas Islands in French Polynesia is one of the longest stretches of open ocean in the world. 2918nm (5398km for you landlubbers), is what laid in front of us. With the forecast looking favourable, we upped anchor and got underway. Within an hour we were sailing nicely. We set a target of less than 20 days at sea, without using the engines (other than sail changes and battery charging). Any longer, we would start to go a little crazy…
Leaving Isabela Island behind, the last land we saw for the duration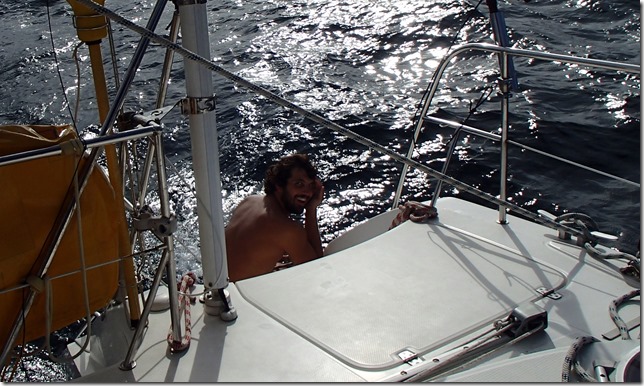 Horse still smiling even though feeling a little worse for wear on the slog out of the anchorage at Isabela
And we're off. Light winds and unfavourable current slowed our progress for the first few days. But pleasant 2 sail reaching had us relaxed and knocking off the miles.
Chook Cowabungering
We saw several of these 25 foot fibreglass fishing boats in the middle of nowhere. They head back to a larger motherships at the end of the day… One of which we had a close call with in the early hours one morning.
A perfect end to day 2.
Cowabunga's instruments light the helm and chart table up like a Christmas tree come dusk.
The full moon for the first couple days helped light the way.
Day 5 and the Bananas ripened a little earlier than we wanted. Not a single Banana was wasted, most being eaten, turned into Banana protein shakes, smoothies, and Bucko making Banana bread and Banana ice cream with the rest.
For the first 4 days, we caught and lost fish. Finally we landed our first Mahi. Only a small one, but a sign of good things to come.
The tramp became a death trap for stray flying fish. Several made it into the anchor locker which weren't discovered for a couple of weeks after stinking out the front half of the boat.
Day 5 and we encounter our first problem. Our wind instrument at the top of the mast broke. Most likely from a stupid Boobie bird trying to land on it during the night. Amazingly, I had a spare on board, so sails were dropped as I took 2 trips to the top to swap it out.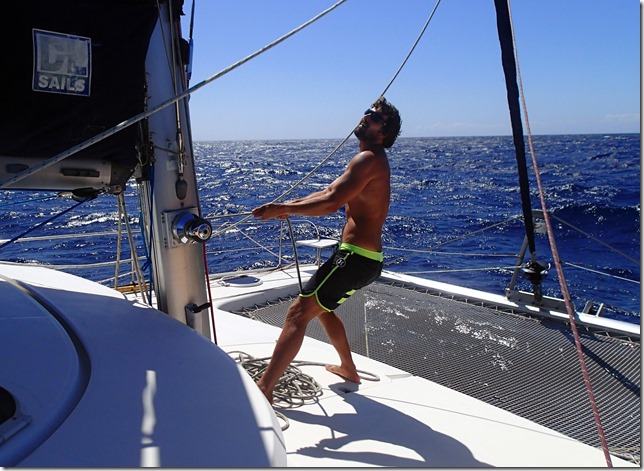 Have a look at this bloke, no need for winches around here.
Now I've been to the top of monohulls rigs in pretty shitty conditions. But the jerkiness of a catamaran, amplified over 60 odd feet of aluminium mast makes the task at hand a whole lot harder. Luckily conditions were moderate and once again, we had a working wind instrument.
The spinnaker made it's first appearance for the trip shortly after in the lighter winds, even though we only had 12-15 knots, we could still average 7-8 knots through the water.
Banana bread fresh from the oven
Afternoon tea in the cockpit
Side on view of a container ship. One of only 2 ships we saw for the entire passage. The other being a car ship bound for Brisbane (So our AIS told us)
As for watches… We sail the boat around the clock. Once we are all settled, we rotate on a 2 hours on, 6 hours off rotation. We keep the same hours every day. When sail changes are required or when a fish is on the line, it generally becomes an all hands on deck situation. At best you can expect 5 hours of disturbed sleep during the night and a nap here and there during the day.
Another Mahi for the pan.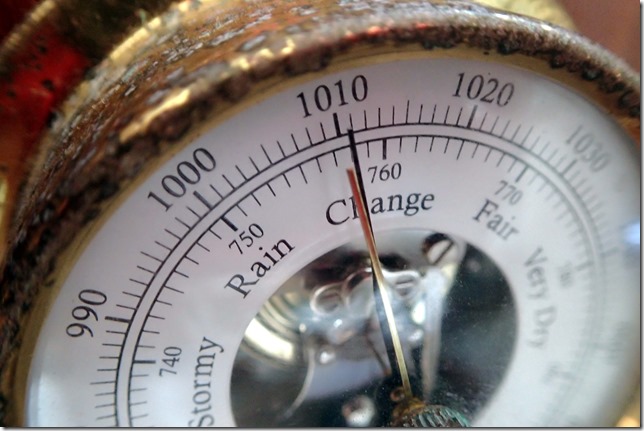 Day 6 was a monumental day, not because the barometer showed 1010hPa (it always does as it is broken)… Chook discovered Macro mode on his camera…
Unbelievable…
I don't even know what this is but my dick just exploded from photo excitement.
The tuna started to roll in. The first of many Skipjack tunas for the trip. Several being 20kg+
Who ordered rare?
Day 7 we hit our next major hurdle. The spinnaker's top half decided it didn't like the bottom half, and they parted ways, in what can only be described a clean, mutual separation. It tore completely along the repair which was done back in the BVI's…
We really struggled with current against us for the first week which was a bit of a surprise. But sure enough the current started flowing west, helping us nicely. The spare Genoa became the new spinnaker. Which worked really well in a lot of conditions and spent most of the next 10 days up.
When it wasn't used we just rolled it up and lashed it to the tramp. Making it easy for 2 people to launch and retrieve quickly.
When the wind was up, we were off hitting teens in the gusts.
The Mahi were starting to grow in size, each getting larger than the previous one.
This guy had had a rough life
We hit the halfway mark after 8 and a half days at sea. In perfect conditions, rums were poured and Jon Bon Jovi's living on a prayer was turned up to level 40….
"WHOOAAA we're halfway there…. Whooaaa living on a prayer"!! The ensuing party kicked on round the clock for the next 8.5 days.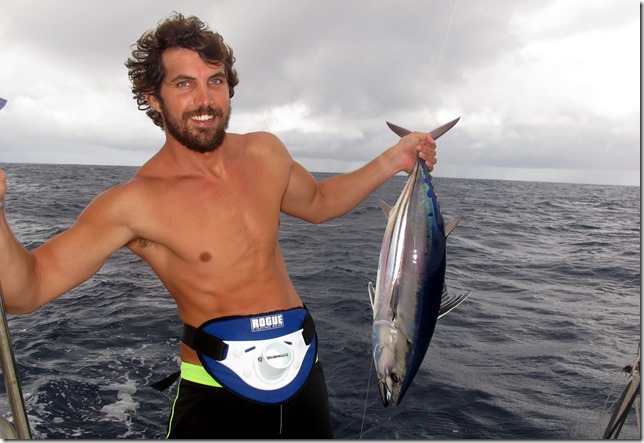 Horse with another skipjack tuna sent back to the depths.
Afternoons like this is what it's all about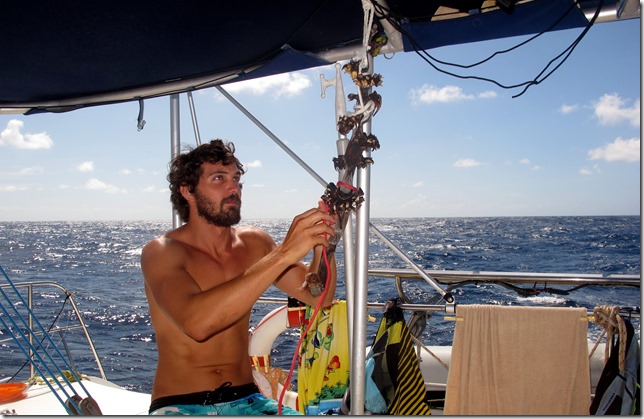 Day 11, The Banana bunch is exhausted and tossed overboard.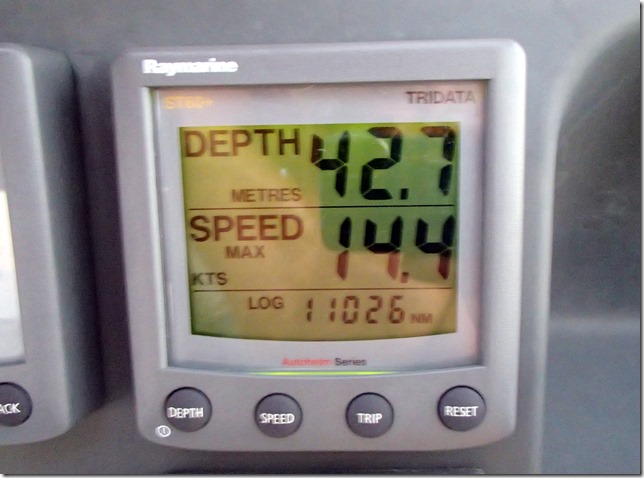 With spare genoa flying and a reefed main, the swells started to settle down providing some good surfing conditions. 14.4 knots the highest speed through the water for the trip. The top speed I saw over the ground being 15.8 knots. Pretty good for a crew of drunks, on a full blooded cruising cat.
Chook with another mid size catch. Some days the Mahi were jumping on the lure. Getting them to the boat is another kettle of fish. One double hookup saw the first fish spit the hook as it was dragged onto the boat, the other was miraculously gaffed after it had spat the hook, only to get it on the top step and have it still manage to jump over the side while 4 hands tried to slide the noose over its tail.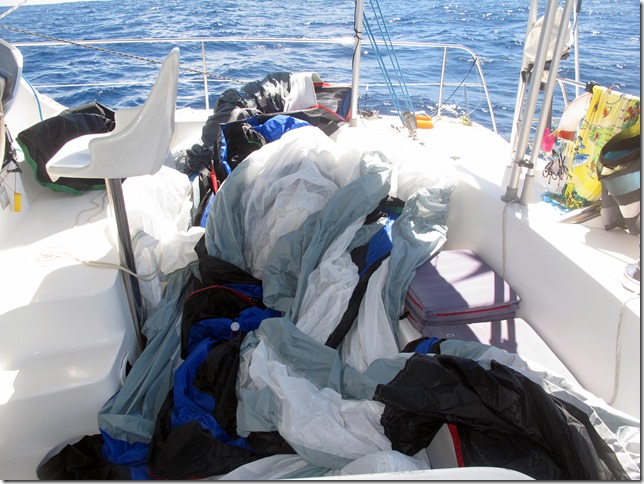 I finally brought myself around to try and figure out what went wrong.
The clean tear across the repaired section of the sail.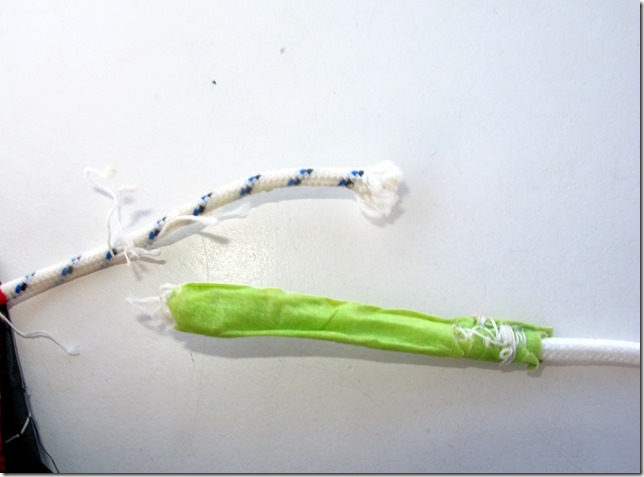 Wasn't long until we figured out the problem. The dodgy pricks that repaired the sail took a cheap short cut. Instead of replacing the luff rope with a new one, they stitched in a short extension piece. Stitching broke, sail tore in half… I'm awaiting a response from the sail makers before I begin the process of naming and shaming.
Spinnaker pole Mark III gets some minor adjustments.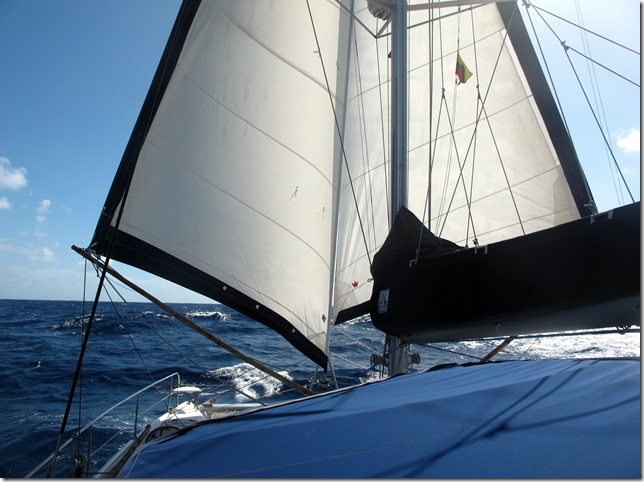 When the wind is strong from behind, the autopilot tends to stay home, and not come to work that day. To make it easier on the autopilot, which is the wearer of many profanities, we dropped the main and tried poling out 2 genoas. Pretty much every sheet, halyard, rope and length of bamboo is used to string this up. But it works really well.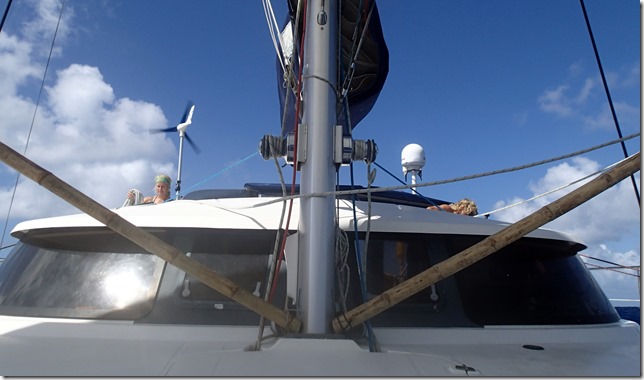 Cowabunga with a nice set of eyebrows.
Day 15 the weather started getting more unsettled. With a few good squalls rolling down on us.
Fresh water is very important to us. We can carry around 600L in the boats tanks plus another 100L in jerry cans which we use to shower in. The mainsail acts as a big rain catcher which we collect in buckets and top the jerry cans up with.
Bucko's Bakery was always busy churning out fresh bread for our carb craving bodies.
Another nice tuna. You're probably wondering what we do with all this fish. Well about 75% of our meals are fresh fish. We keep a healthy stock in the freezer and whatever we catch which is too big or unwanted, we throw back.
With 3 boys requiring half a million calories each per day, and Bucko requiring 200. We eat a lot and nothing is wasted.
A look at some typical meals… Sashimi anyone?
Mahi Mahi Ceviche with steamed Broc, served with coconut rice with toasted almonds and lime
Beer battered Mahi Mahi with homemade tartare, wedges, Broc Peas and sweet potato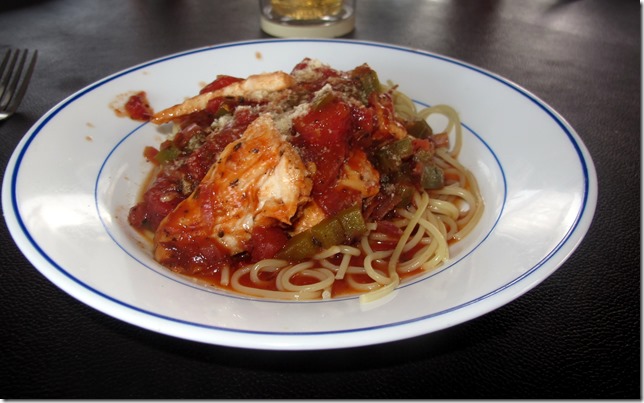 My personal favourite Spaghetti MAHInara. (Naming credit goes to Gav)
Once the fresh food runs out we move onto things like fish tacos and Fish wraps with tinned tomatoes and corn.
Red Thai Mahi and Pumpkin Curry with green beans.
Day 16 and we are on the home stretch. Main is fully reefed and a small amount of Genoa still had us doing 6's to time our arrival into Marquesas at first light.
Bucko gets lonely sometimes on board a boat of guys. Her two best friends are a flamingo from Bonaire and a sea lion from Galapagos I gave her to keep her occupied. Have a look at those curls.
First light on day 17, 930am as we approach Fatu Hiva. We crossed 3.5 timezones which meant the sun rose about 10 minutes later every day.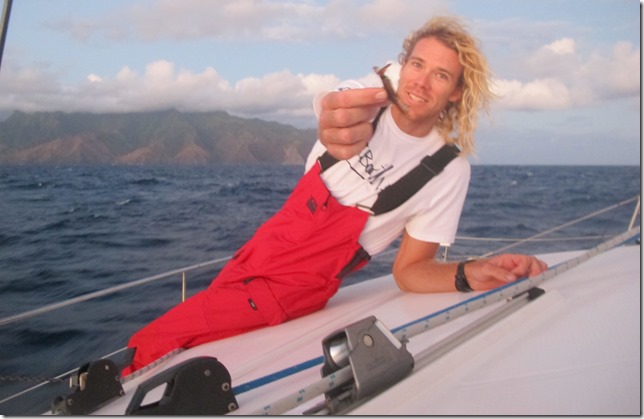 Dried squid which had been stuck to the deck for the last week finally gets cleaned off and offered for breakfast.
All smiles onboard as we complete the final dozen miles of our journey with the island of Fatu Hiva behind us
Chook had been very busy plotting data to pass the time. Looking at trending curves and extrapolating non linear logarithmic roundhouse curves. This allowed us to predict future trends in how many arrival rums we would drink. Some statistics for the trip…
Total distance covered 2918nm (5398km) over 17 days, 3 hours. Average speed 7.1 knots.
Total distance sailed through the water 2884nm (5335km).
Best 24 hour period 194nm. Average 8.1 knots. Best 6 hour period, 61nm. Average 10.2 knots. Top Speed 14.4 knots through water, 15.8 over ground.
Worst 24 hour period, 151nm. Average 6.3 knots.
Total motoring time 2 hours. Total engine time (for charging batteries) 30 hours.
Fuel consumption 50 litres. That's 250nm (462km) per person, per litre of diesel.
Total fish caught and landed 15. 7 Tuna, 8 Mahi Mahi. 5 Tuna released. 1 lure lost
Pushups 2830, Squats 2555, Pullups 420, Bicep Curls 750, Situps 1230. These are boat totals
Total number of times "Gammin" was said, 1324. 35 of these incorrect context by Horse. eg. "These perfect sailing conditions are Gammin" errr that doesn't make sense
Number of spews 2.
Water used from boats tanks, 350L.
Shark sightings, 1. Ship sightings, 2. Fishing boat sightings, 3. Chicks/Pirate hooker sightings, zero.
Number of arrival rums, 1425 (Close to the calculated forecast of 1413).
After 17 days and 3 hours, we drop the anchor in the anchorage at Fatu Hiva for a well earned rest and rums later that night. We parked up here (illegally) for several days before being boarded and searched by Customs. That was our cue to move on to Hiva Oa, our port of entry for French Polynesia.