After a 17 day passage at sea, all one wants to do is celebrate, drink some rum, and sleep undisturbed for more than 4 hours. So that's pretty much what we did for a few days while anchored in the Bay of Virgins in Fatu Hiva. Eat, Drink, Sleep, Repeat….
This is one of the prettiest anchorages we have ever been too. The dramatic backdrop is unbeatable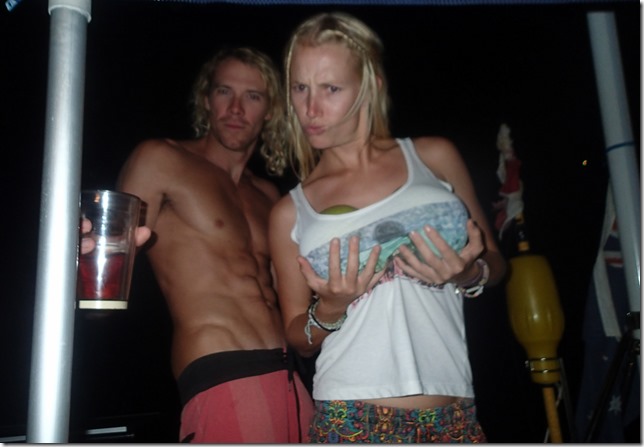 Showers were had (Using more than 2 cups of water), rums were poured, the guys from "Beluga Free" came over and the good times rolled. Bucko with a nice set of pumplemoose bolt ons
And it was Goodnight to Horse at about 830pm. Ocean crossing takes its toll…
The next day we hiked up to the nearby waterfall for a fresh water swim.
The water wasn't flowing in full force, but the 200 foot drop over a black rock face resulted in a warm shower.
The boys contemplating life
Horse happy to be back on dry land
The local hunters came around and offered us up some Goat meat. So armed with a $10 bottle of Rum, the negotiations began. In fluent French, we ended up with two legs of Goat as a trade.
After months of eating predominately fish, fresh Red meat is always welcome.
Buckos butchery straight to work.
We hiked up to the Cross on top of the hill. It didn't look far from the boat, realising half way up that it's a lot further than we thought.
The view down into the anchorage with Cowabunga bottom left. While we were up there, the Customs/Coast Guard seen at the top rolled into the anchorage.
As we had not officially cleared into French Polynesia, we walked back down to the boat and awaited what repercussions would follow.
Beluga Free was the first boat to be boarded. We weren't far behind. After doing a search (again not finding the rum), they slapped us on the wrist and told us to move next morning to an official port of entry.
So after 3 nice days in Fatu Hiva to recharge the batteries, we left early one morning for Hiva Oa, which is the 2nd largest island in the Marquesas.
The anchorage at Hiva Oa is pretty tight and requires the use of stern anchor to keep the boat into the swells and stop the boats swinging into each other. This works well most of the time, until some boat forgets about their stern anchor and drags in through the anchorage when manoeuvring.
We joined Beluga Free and went on a tour of the Island, to check out a few things, but mainly to raid peoples plantations to stock up on our fruit supply
Some archaeological site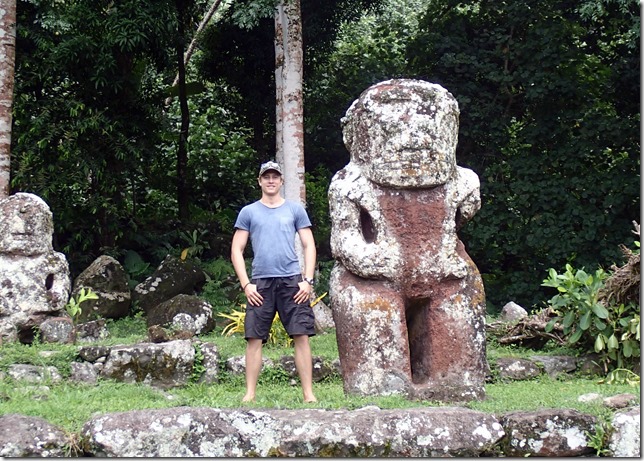 Tiki Left, Chook Right
No Pumplemoose tree was safe. With Bucko playing catch, we cleared every tree we could find.
John with a worried look on his face, as we got the first of our flat tyres.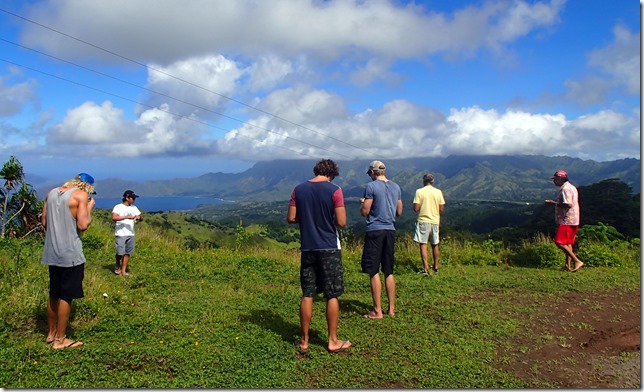 Enjoying the fruits of our hard work while enjoying the view
And the second of our flat tyres. Luckily John borrowed a 2nd spare tyre from a passing mate an hour earlier. So we could make it back to the boat.
Pumplemoose, Mango, Soursop, Limes, Chilli, dried Banana and Star fruit. All for the cost of climbing some trees.
Pumplemoose are a type of grapefruit here that grow the size of Buckos head. But they are different to most grapefruit in that they are quite sweet and require no sugar to eat them.
After reprovisioning the boat, and clearing in after many delays, we decided to head for the Tuamotus. We pulled into a nearby sandy beach for a few hours to relax before setting out across on the 2.5 days sail to the Tuamotus.
Horse having a kindy nap in the shade of a tree. Before we set sail
On the way out we caught this nice Wahoo to stock up our now depleted fish stocks.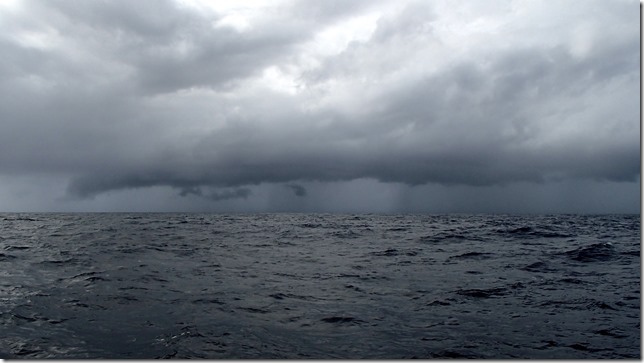 For the 60 hour trip, we had pretty shitty weather. Anything from 10-30 knots, with plenty of rain and sail changes.
We did have some nice sailing, reefed main and spare Genoa is our goto setup for 20+ knots behind the beam.
Just as we approached the Tuamotus, we scored a triple hookup. The first two in were Tuna which we threw back, but luckily the 3rd was another Wahoo. Wahoo sashimi for the next 3 days.
Early in the day we spot Raroia in the distance and head for it's pass
This guy happy to lead us in
Once inside the pass, there are no charts. So you have to eye ball all the obstacles that would put an early end to our trip.
That's where this guys comes into it. Give him a beer and pull him up the mast to the crows nest so he can look for the reefs and keep us safe…
While we stand around and talk shit.
We must have been anchored all of 10 minutes before kites were unpacked and thrown into the tender. It has been months since we had an opportunity to kite so we made the most of it
1 palm Island
We stayed about a week in Raroia. Exploring the north eastern part extensively. Bucko reefwalking
This old shack looked like it hadn't been used in a while. We think the locals would come up here on new moons to walk the reef at night to collect Lobster
Cowabunga on anchor in 3 metres of water tucked right up the northern end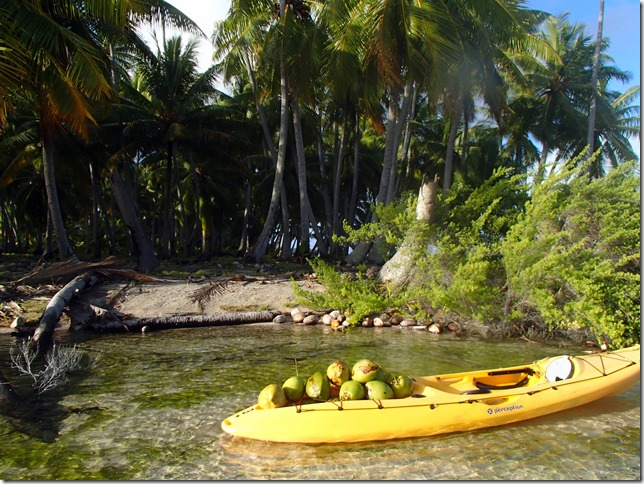 Rum and coconut water has become the sunset drink of choice. A. because its cheaper than coke, B. because its a healthier option. Trev the 1 tonne ute would provide transport for climbing coconut trees looking for green coconuts.
Bucko set up shop on the bow creating her hideaway from Manpower.
She was also busy in the kitchen knocking up this amazing Choc Banana cake.
The wind was in every day for perfect kiting. Each day we'd find a nice anchorage with a sandy spit nearby to launch our kite… and to jump over.
Cowabunga, the ever reliable workhorse was happy even though there were no other boats to play with
Flat, crystal clear water with just the sharks to share it with
Perfection
The Motus (Islands) are covered with these hermit crabs, cruising around looking for coconuts to chew on
We have been enjoying the occasional Goat stew. But breaking the leg bones to fit in the pot proved difficult, even with Chooks superhuman strength. Until I pulled out 4 foot of Boltcutters… take that goat leg
We had been spearfishing most days, catching fish which we assumed were safe to eat based on previous experience. Ciguatera is a toxin which accumulates in certain reef fish, the bigger the fish, the higher the risk. If you get a bad dose of it, it can make you really sick. Even kill you. So we stuck to Parrot and Marbled Grouper. Then I would eat a small piece to see if I would feel any effects. So far this method has proven successful. Normally its best to ask the locals, but there were no locals here to be seen.
Luckily for the sharks, we would feed them the carcasses for our enjoyment
Got one. On one spearing occasion I shot a grouper, only to have a Grey Shark swallow it. The battle to retrieve my spear from the shark's mouth began. While I stood on top of a bomby, I pulled the spear from the sharks mouth while hitting it on the head with the gun. Eventually he spat the fish and spear, only for a huge Moray Eel to take the fish from underneath my feet. With spear bent, and the Moray getting the prize, we'll call this one a draw shark.
I had 20 litres of contaminated Diesel I wanted to get rid off, so a suitable island was found for a bonfire
Palm Fronds and dry coconuts is all you need to create a fire which could be seen from space
But add diesel into the mix and adult men turn into teenage boys. The first of many Tuamotu Bon Fires
By sunset we usually have a couple of quiet Rum and Cocos over dinner and board games before retiring early. Rising with the Sun for another full day of adventures
Raroia is one of the more famous atolls because it is where Thor Heyerdahl raft "Kontiki" ended up after its 5000nm drift from South America back in 1947. He wrote a book after the journey which sold over 50 million copies. Well we found the exact Motu that he and his Norwegian crew washed up on.
After a bit of searching, we found a small plaque dedicated to their success buried amongst the trees.
Bucko spending some quality one on one time with the tender
Coconut crabs are quite common in this part of the world. They are the largest land living anthropod and can grow up to a metre from leg to leg.
They are excellent eating, and wherever there are locals living they are normally quite rare. Due to the fact it takes 5 years to reach maturity and can live for 60 years. This guy we found was just a teenager so we let him go.
Chook with his maiden spearfishing kill. A nice marbled grouper.
Another windy day means another kiting day.
Horse getting radical
Bucko doing her thing
It really doesn't get much better than this.
Except when we have to take cover from a passing shower.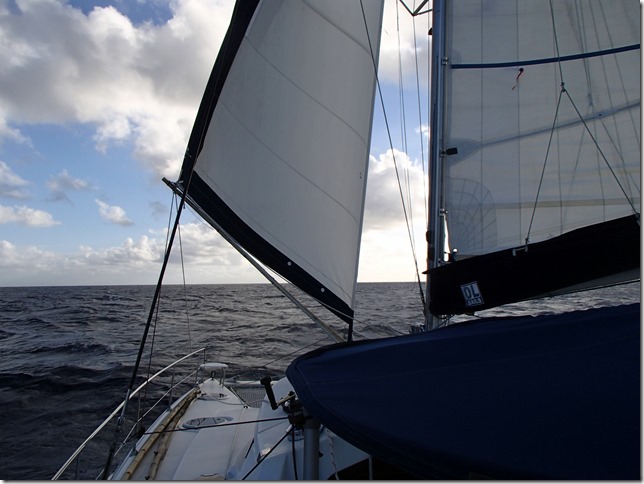 It was time to leave Rarioa and head west to see something new. We had a cruisey overnight sail to Makemo, about 80nm away.
Satellite view of the NW pass at Makemo. The atolls are fully enclosed other than 1 or 2 passes wide enough for boats to navigate. Sometimes the current in the passes can reach 8 or 9 knots as the tide rises or falls. We arrived at Makemo when I thought the current should be minimal…
Well I was wrong… as we had to punch into 6 knots of outgoing current. Even with boat engines hard down, we were only managing 1-2 knots at times. We made it in nonetheless
The anchorage is surrounded by spectacular reef, with some of the best snorkelling and spearfishing in the Tuamotus.
Forget Monopoly. Panama's version "Mega Banco" gets a run. Complete with Spanish Chance and Community chest
Makemo's pass, along with its ingoing current, provided a great drift snorkel. At some point travelling more than 3 knots with the current.
We'd just hang onto the tenders rope and get sucked into the atoll
It also provides a great chance to watch sharks as they rest in the current.
Forget the coral and fish, these are the real drawcards of the Tuamotus. There are literally millions of reef sharks, all of them virtually harmless, cruising around checking you out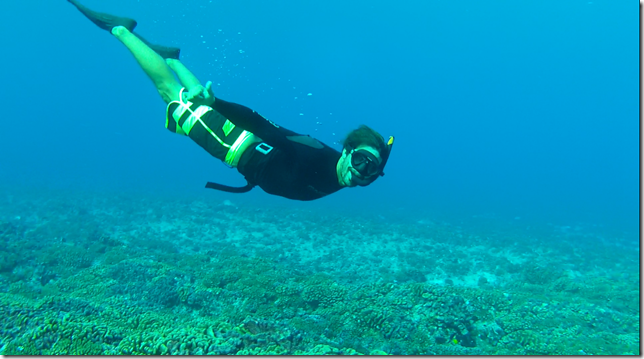 Horse enjoying the fast flowing current
The Grey sharks are the most inquisitive, close enough to touch a lot of the time.
Looking up at Chook, Horse, and Bucko with tender in tow from the depths
Next day we pulled out the tanks to dive the pass
Bucko keeping a close eye on that shark coming up from the depths
Greys patrolling the reefs wall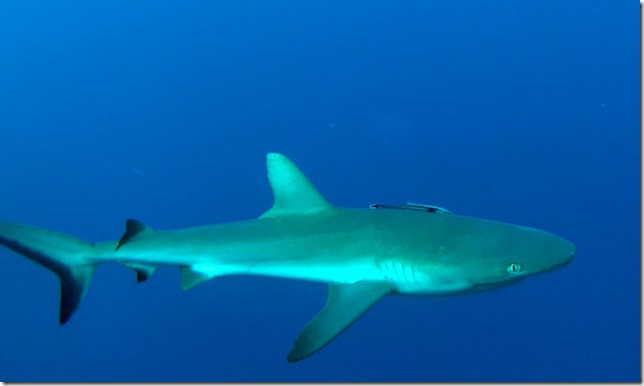 Their cat like eyes follow you as they swim past
Bucko with a quick wave home
There are 3 guys that live ashore here during the Copra season. Copra is the dried coconut meat which gets turned into coconut oil for shampoo and shit like that. Able, who spoke no English, and not much French, was very welcoming and could talk the ear off a deaf lady. Armed with cold beers we asked if we could steal some drinking water for the boat.
Luckily for us the water tank had plenty of water.
While the water was filling, Able was giving Horse a lesson on how he climbs coconut trees.
Again, we were spearing fish every morning for lunch. This guy lined up ready for the kill
Bingo… Nice size Parrott fish
Mornings effort
Although we couldn't talk to the locals, they were always willing to help fillet our fish and give us coconuts. After another shark attack left my spear bent like a Boomerang, one of the boys spent some time straightening it out for me.
After a few days in Makemo, we upped anchor and left the pass and made an overnight sail for Faaite. Faaite has a pretty famous surf break which we were pretty keen to check out, especially since a swell was on its way.
Faaite is unique, in that you can anchor outside the atoll near the surf break, on a shelf of coral in 15m of water, which rapidly drops off to hundreds of metres
With 35m of water under the boat, and visibility approaching 50m, we practised our free diving. Somehow managing to find this prop buried in the coral. Must have been a long row home for that bloke
Faaite has a population of a couple hundred. The entire town was immaculate. The streets were paved, the gardens well kept and the locals very friendly, keen to talk with fellow surfers.
The supermarket however, had bare shelves.
We still manage to find ice cream and a pack of chips anywhere we go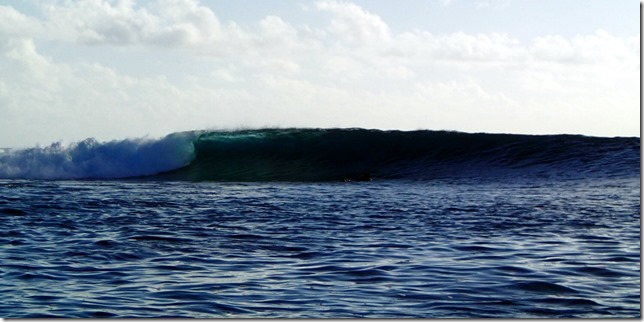 The break showed so much promise, but never got to a size that had us putting fins in the boards. Until next time Faaite…
We still spent the afternoons collecting green coconuts to drink with our rum
The anchor locker became the cargo hold. Able to store 40 coconuts at a time.
After just a couple nights at Faaite, we left in the morning, headed for nearby Fakarava.
Satellite view of Tumakohua, the southern pass at Fakarava. Which apparently means "Vagina" in Polynesian… fascinating
We found Australian friends Moana Roa, who we met way back in Trinidad, anchored nearby
This anchorage really was one of the most beautiful of the Tuamotus.
Bucko being chaffeur driven to the beach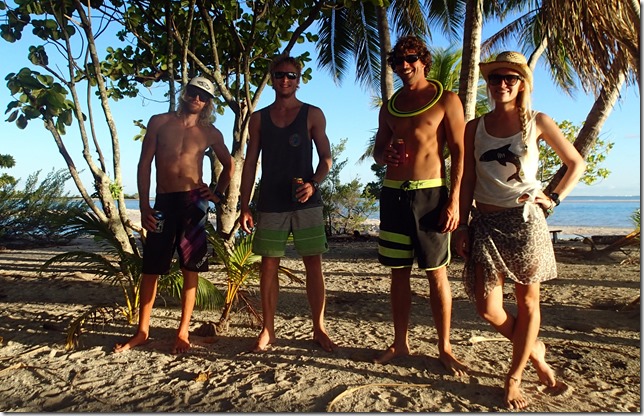 Afternoon beers and fris amongst the coconuts trees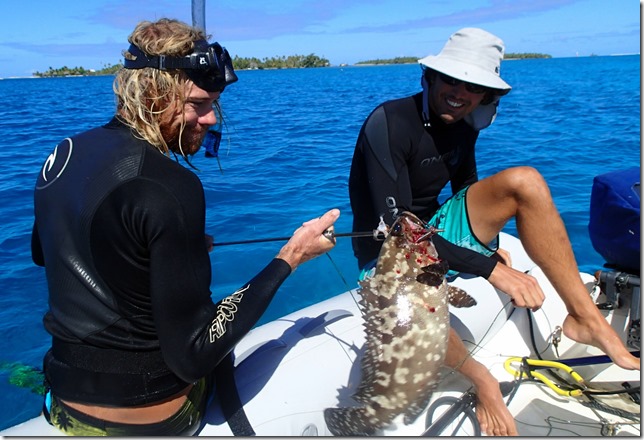 The spearing continued, but the sharks were even more aggressive when there was a gun in the water. This guy was lucky to make it to the boat, shot straight through the eyes. At any time, there may be 5 sharks swimming around you as you take a shot, then its a race to get it out of the water before they steal the fish. More often than not in Fakarava, the shark won the race.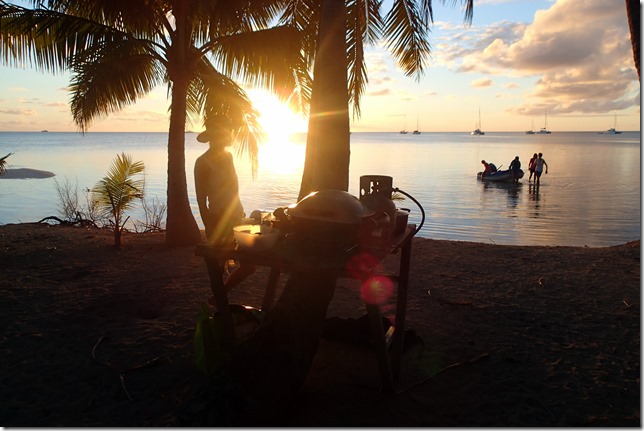 The Weber set up at the makeshift Fakarava yacht club to cook up the fish.
Bucko being carried to shore to avoid standing on the squishy sea cucumbers. What a man…
The nightly bonfire with friends from all over the world
Like insects to a light…
Monday morning meant the kids were ready to be sent off to school with clean, brushed hair.
The sharks are the reason we were here. The pass dive in South Fakarava is considered one of the best dives in the entire world. Literally a thousand sharks can be seen in one drift of the pass.
Needless to say we either snorkelled or dived that pass more than a dozen times over the ensuing days. Long time friend, Jorel "Number Cruncher" Reid, was due to fly in from Brisbane, so we hung out in the south awaiting his arrival so he could get in on the shark action as well…. More on that next time.