Jorel had finally arrived from Brisbane. After 3 flights, a taxi ride from a drunk local, and a 20nm boat ride across the atoll of Fakarava. We welcome him aboard the best part of 3 days after he left home… this is one of the downsides of joining a boat in a pretty remote part of the world.
No sooner had he unpacked his bag, we were all in the water diving the famous southern pass of Fakarava.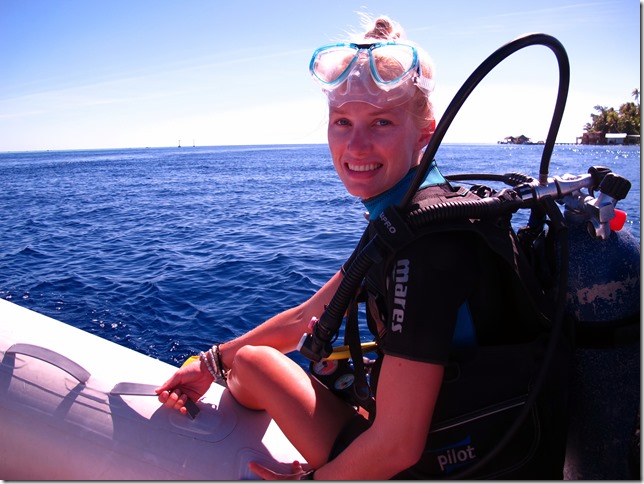 While Chook and Jorel dived with one of the nearby shops, Me Bucko and Horse took turns and drift dived the pass 3 times back to back
Gate crashing Jorel and Chooks party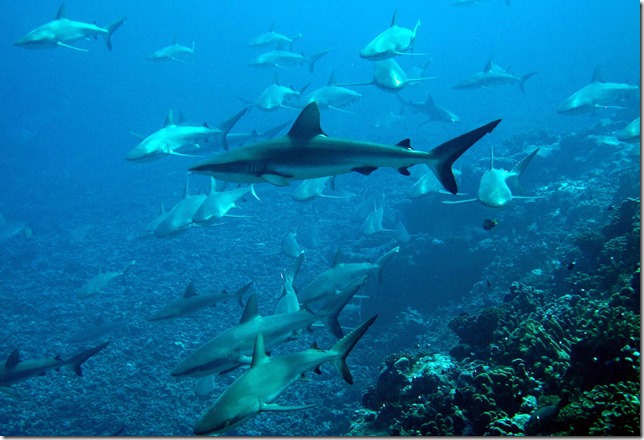 Sharks reign supreme around here and are the most fascinating creatures underwater.
As many as a thousand Grey Sharks gently swim against the inflowing current in the pass
Most are around the 5-6 foot mark
They're basically sleeping during the day, swimming in circles on autopilot
Would be man eater
Throw a spotted eagle ray in there for diversity
They are quite docile, until something gets them excited and you realise just how quickly they can move
Bucko with dozens of sharks beneath her
Looking down shark alley
This is one of our target spearing species. The Marbled Grouper are gathering here for their once a year spawn/orgy. 2 weeks after we were there, there would of been tens of thousands of these guys hanging out. The activity brings in bigger sharks, such as Tigers, Bulls and Lemons looking for an easy feed or diver to chew on.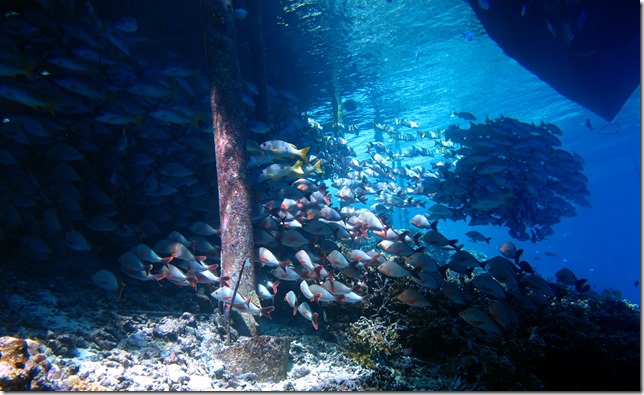 Underneath Annabelles restaurant is alive with fish
Shooting a spear through here would be entertaining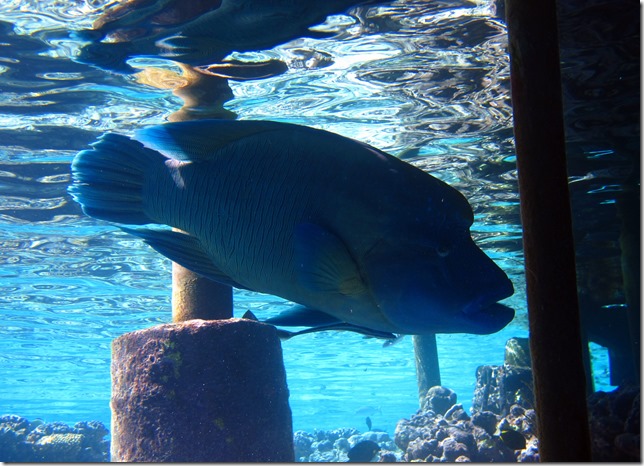 The Napoleon Wrasse are here in numbers, some of them 4 foot long.
Chook chasing one around in the shallows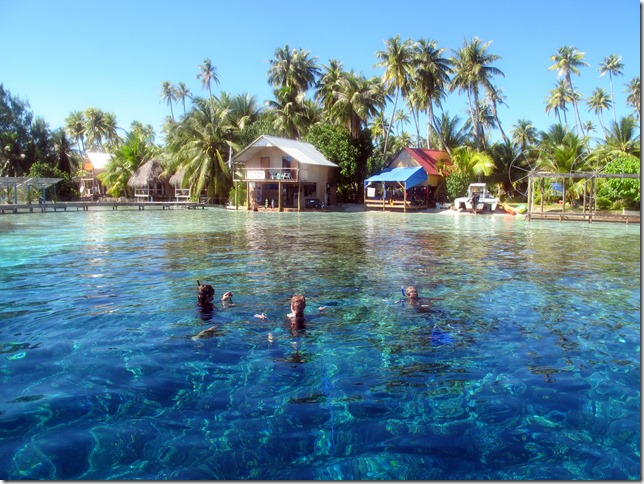 Rooms with a view
Needing to dry out after spending days in the water, we upped anchor and headed to the north end of Fakarava. Have a look at that rig… Jorel is expecting his invite to the next Americas cup any day in the mail
We timed our run for the once a week supply ship, our first chance to provision in over 3 weeks since we left Marquesas
This is how the locals transport anything from bottle water to bikes off the ship
The slackline I had Jorel bring over was strung up, an instant hit with the locals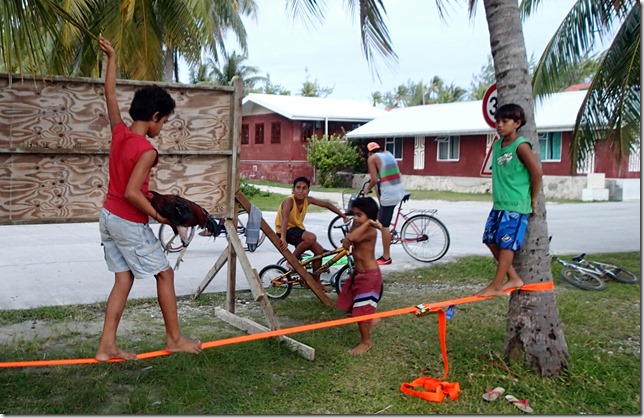 This guy using his Rooster for extra balance. Apparently the number one cock fighter on the whole island
While waiting for a weather window to head north, we took the boat a few miles over near the airport to find some clean air to do some kiting
Chook about to hit it. Shortly later tearing the kite in half. Sad face.
Forget the cockpit. this is the DickPit
Out SSB radio has locks on it to prevent us transmitting on any frequency. A friend off another boat gave me instructions for the mod. So the radio was pulled apart, and 3 microscopic diodes were ripped out. Amazingly it works and our voice can be heard on Stiff FM
Horse examining the shithouse ladder on the unfinished lighthouse on the north of the island. Why they needed to build it this big, and then never finishing it had us all guessing.
Great view from the top
Some days it seems likes its fresh fish for breakfast, lunch and dinner. When there's talk of steak and fries around it sends us into a feeding frenzy. Lorna joining us for meatfest.
Horse doing his morning aquabog behind the boat as we leave Fakarava and head for Toau.
Once inside the pass, we stopped off an an abandoned village…
To pick up some shower water from an old water tank.
This area has a history of providing plenty of lobster to pick up on the reef at night
So we got up at 1am, lit a fire so we could find our way back, and headed off over the reef in search of Lobster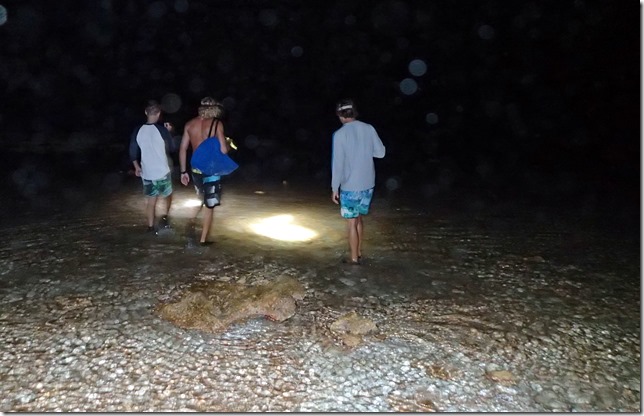 The stage was set. New Moon, low tide, small swell… But we came up short. The locals later told us that the swell was still too big for lobster.
The Parrot Fish sleep at night in pools, just inviting you to grab them behind the ears.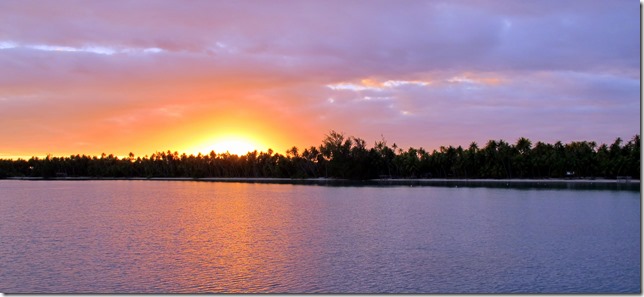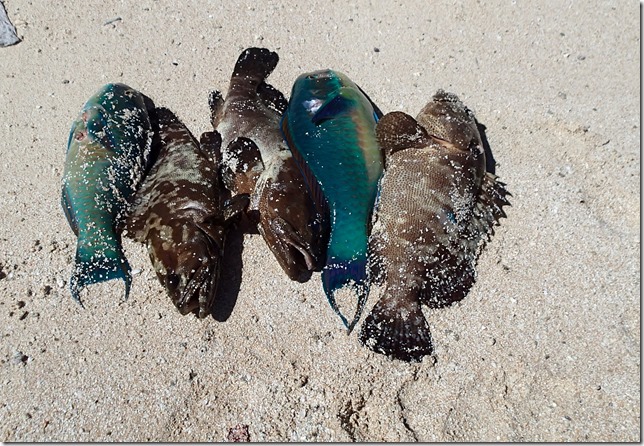 We continued to spear each morning for the days meals. With 4 hungry boys onboard we needed around 5 decent fish
With the boys cleaning the fish on the beach the sharks soon move in to clean up the scraps
Jorel was tired from battling a ciguatera ridden grouper which he speared earlier in the day. A free lift is easily obtained by tying a fish carcass to the end of Trev
Soon enough 5 sharks latch on and take him on his way, more often then not in the wrong direction.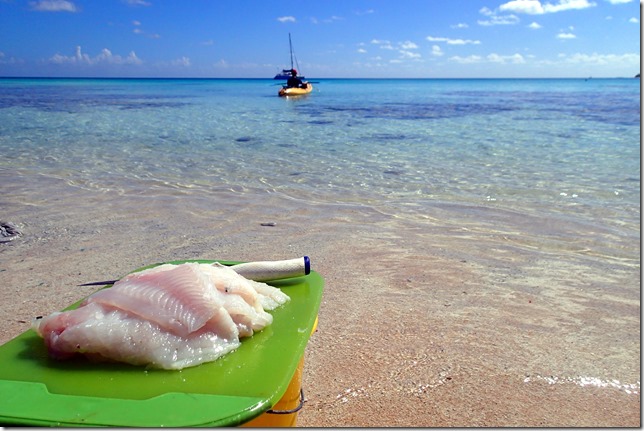 The mornings work on display while Jorel and Trev get towed back to the boat
We moved further north in the same lagoon. The weather was calm so we anchored in between the two passes. Which turned out to be my favourite spot of the whole Tuamotus
Bucko practising her freediving in the crystal clear water
The Jambo anchor latched onto some dead coral
These Black saddled grouper would make for awesome eating if they weren't full of ciguatera. Basically a Coral Trout
Nurse Shark having a midday snooze
Ashore on the tiny island was an old camp, complete with tables, chairs and lots of good wood, so we started the fire early, using some contaminated diesel to get some good coals.
Whole parrot was on the Menu, along with marinated grouper fillets, baked potato, and Chooks famous beer damper
Who ordered their damper golden brown…
…We did!
The grill got a lot of use in the Tuamotus.
Jorel doing the opening of another green coconut to mix with our rums
We are simple people, and hermit crab races is enough to keep us occupied for hours. Might have something to do with that big bottle of rum
The next morning the wind had all but gone. Increasing the water visibility further
Breakfast, the most important meal of the day
We drift snorkelled the smaller pass. Chook looking like he's flying through air rather than water.
Trev, when loaded up with spearguns, becomes a hunting machine.
Smile for the camera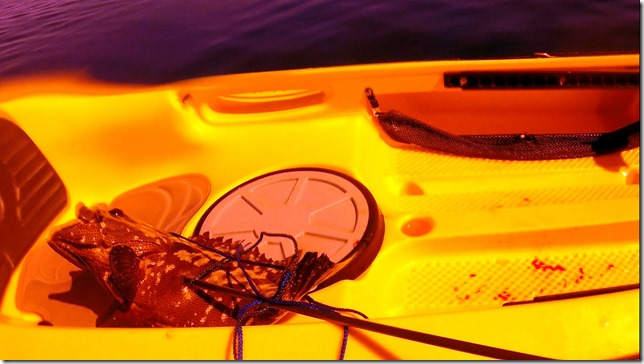 Lunch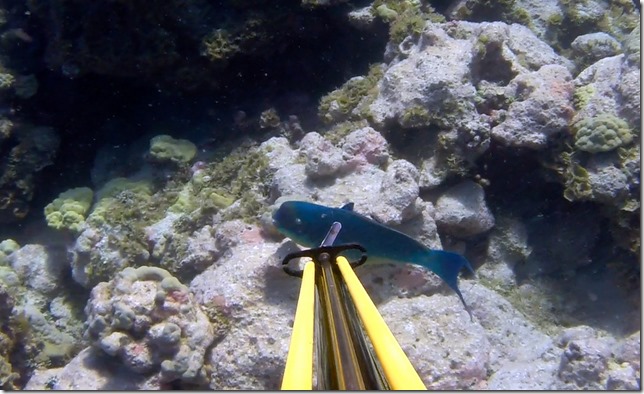 Sorry buddy but you're dinner.
The sharks sometimes need a friendly nudge to keep them at bay
Another day, another feed
Horse hand rearing a future man eater
It's not often you get glassy days in this part of the world, probably only a few times a season. But it certainly makes for a nice postcard when it does happen.
Chook, the resident Parrot hunter
Bucko provided the muscle for me and Trev to go for an explore
We moved further north in Toau, and with the glass conditions why not skurf. Not behind the tender, behind Cowabunga
With both engines hard down we're lucky to get 8 knots, but its enough to keep us entertained
Near the anchorage we found a dead tree over the waters edge. Doing what any group of 17 year old boys would do, we stuffed it full of palm fronds then lit it on fire
We keep finding ourselves alone in every anchorage we go to. Partly by choice, and partly because boats tend to leave when we get there. What can I say, our reputation proceeds us.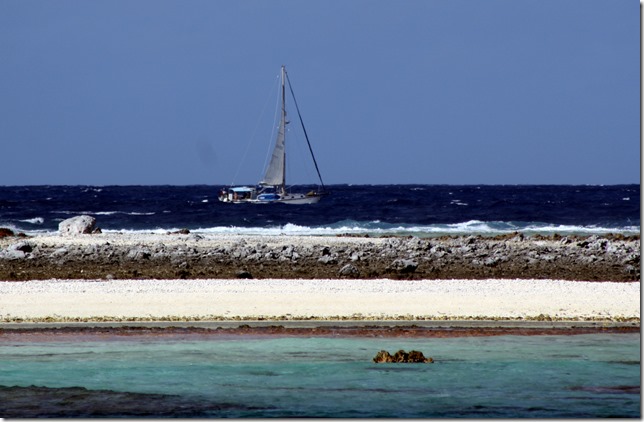 With the promise of a good kiting location and wind en route, Kim and Lorna from Zissou came to join us from Fakarava
We both cruised down to the southern end again, dodging the frequent coral heads that would make a mess of our keels. Zissou as seen from Cowabunga
Cowabunga as seen from Zissou
With the wind on, we found a perfect little island in the south and set up shop for a few days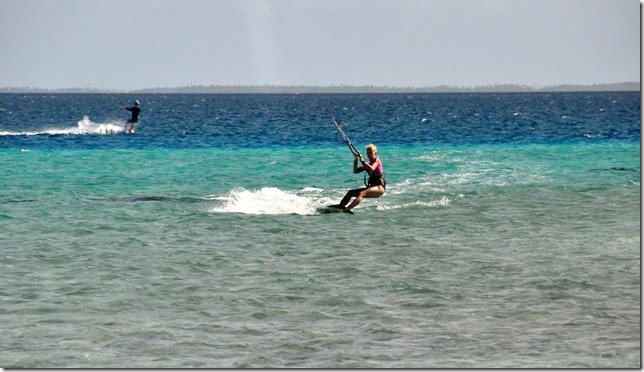 Bucko and Horse enjoying the perfect conditions
Kim getting radical
The slackline was strung between 2 of the 3 coconut trees on the island. Chook getting skilled…
while Jorel relaxed, thinking about returning to work in a week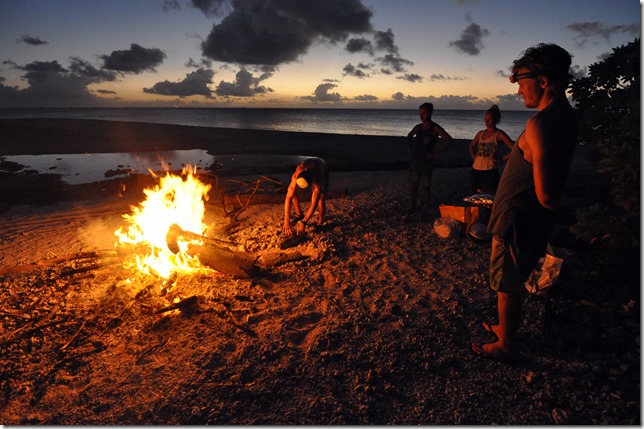 Another night, another bonfire
BBQ chicken on the grill
This Island is FULL of coconut crabs. It took us all of 5 seconds to find one. So we came in the next night and started collecting a feed
Armed with torches, these guys are pretty easy to catch and pickup by the back. They range in colours from reds through blue and iridescent purple
Our holding cage needed some improvements however as they kept escaping
Back on board Zissou, Kim boiling up the water to cook them up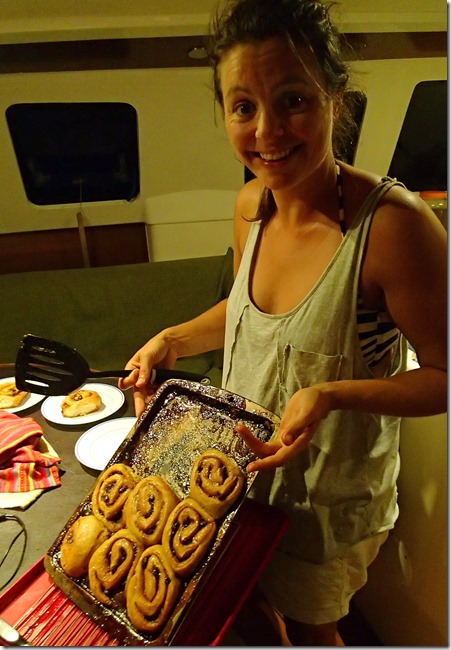 Lorna took care of dessert. Cinnamon scrolls for all
Time got away from us and we had to get moving again. Toau South certainly provided the best kiting and spearing opportunities to date. A favourite for all. To top it off we catch a dirty, ciguatera ridden grouper on the way out the pass.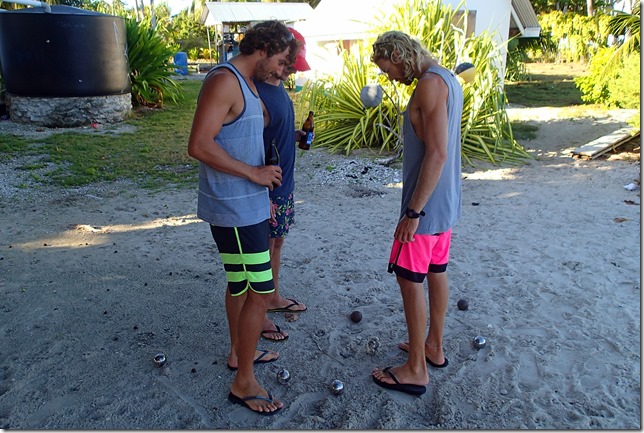 We ventured to the North Pass called Amse Amyot and spent the afternoon ashore with the 2 locals, Valentine and Gaston, who I met here 3 years ago. Their hospitality is what brought us here again, drinking beers and playing Botchi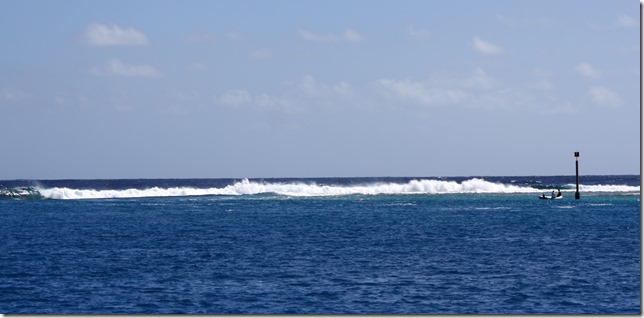 The next morning we were spearing, while keeping an eye on the waves at the pass. Then a couple nice sets came through so we cut the session short after catching only a couple fish and put fins in the boards.
Horse and I went head to head, Mano V Mano. With Horse firm favourite at $1.10 to take out the Toau classic
Horse tucking into a nice one. This is not a known wave and we were certainly not expecting to see anything here.
I caught the last wave of the heat above, but it wasn't enough with Horse winning, convincingly 19.80 to 7.60. The locals said the last time anyone had surfed this wave was at least 4 years ago. Makes it all the more special.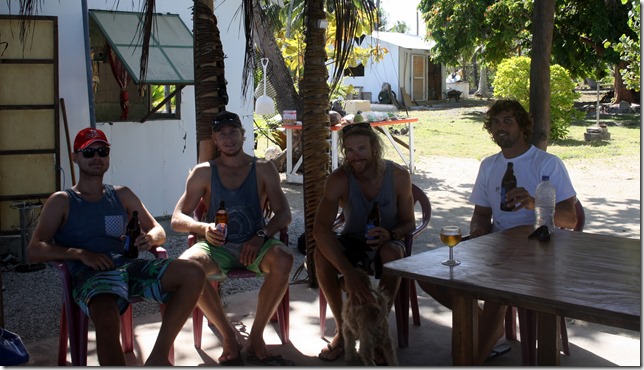 We had to cut the surf session short as we had a Lobster feast being prepared for us onshore. The boys and their beers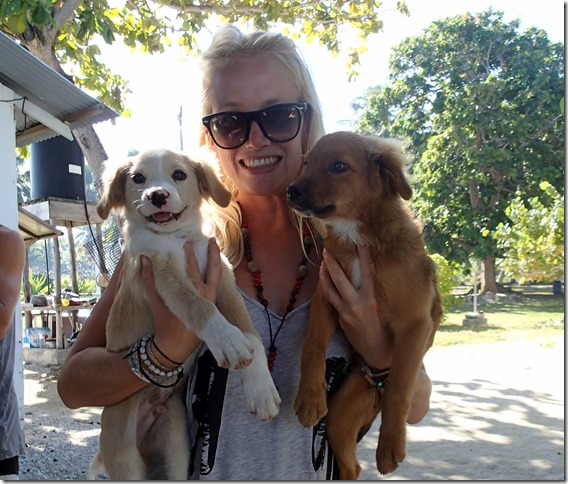 Blanco, Bucko and Brownie. We were well entertained by the gang of puppies running around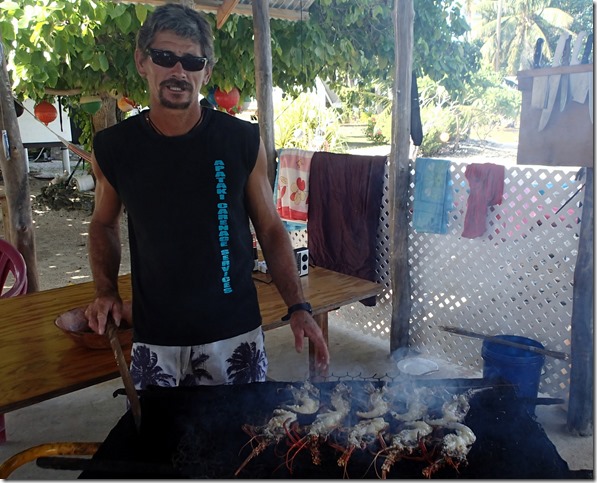 Gaston, local superhero, cooked up Lobster and the fish we had shot earlier in the morning on the grill.
Valentine and Gaston the perfect hosts. Anyone that can provide enough food for the 5 of us are legends in my book. Rounding off the meal with some coconut chocolate cake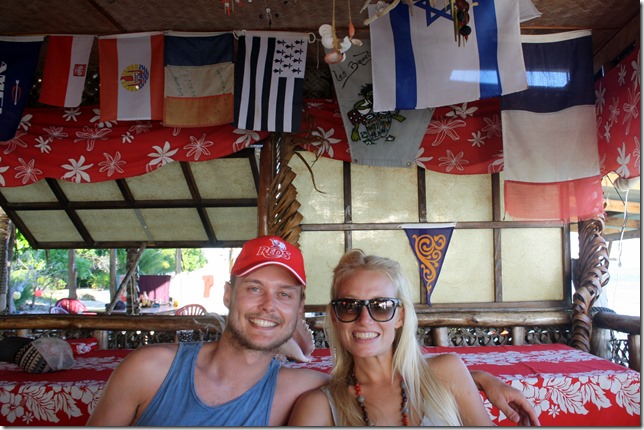 This would be our last stop in the Tuamotus, and will definitely be talked about for years to come
Our stay in the Tuamotus had drawn to an end. After 5 weeks or so cruising around, we sadly needed to move on. Before we leave, the anchor locker is filled with green coconuts for future parties to be held in Tahiti
After a very non eventful 1.5 day sail, we reach the entrance into Papeete, the city in Tahiti. This is our first real civilisation since we left Panama almost 3 months ago. The first, second and third stop was McDonalds for a well earned Big Mac and Cheeseburger. Partying become priority numbers 4 through 8, which, from what I remember, was also highly successful.