So, once again, we quit our respective jobs in search of a new adventure. Bucko spent the last few months working as a receptionist for an architect in the city, while I was off building a new power station in the middle of nowhere. Good to be home. But better to be leaving.
Half the Mt Isa Crew at the Mt Isa Rodeo. The other half were being softcocks. From left. Neville Bartoss, Ed Sheeran, Siggarette, Pete, Millsy, Me, Tough Guy, Damo, McLovin, Gandalf the Grey, Snake, Mick. No one remembers anything after this photo except for Damo.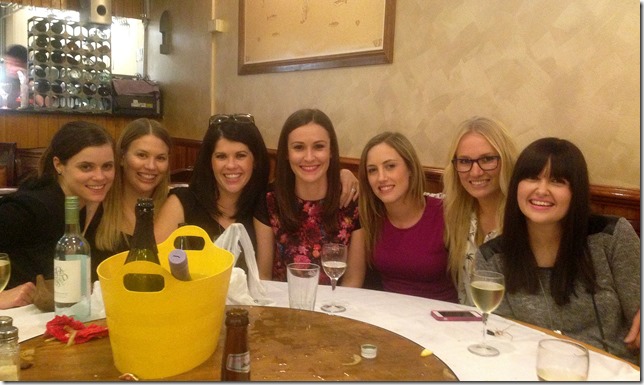 Caitlin celebrating her 19th birthday with the girls… after 12 bottles of wine. From Left: Amy, Suse, Schafes, Lizzie, Sharna, Bucko, Mikdog. (Kate & Megan in spirit).
To this day I have never paid a dollar in excess baggage charges. I thought my luck would come to an end with this lot. 6 big bags including 3 surfboards and 2 kites, checked all the way through to Trinidad on 3 flights… and to our surprise, not a dollar charged. Tip of the cap, Qantas lady
Arriving about 48hours after leaving Brisbane, we find Mahi on the hard all packed up, clean and liveable from the get go. Big thanks to previous owners Michael and Verena for leaving her in such good nick. The boat is located in Powerboats yard in Chaguaramas, which is about a 40 minute drive west from the capital Port of Spain.
Nice welcoming gift…
A well earned settling in beer. Note the "I love Cowboys" stubby cooler from this years Mt Isa Rodeo. Bucko might have some trouble finding cowboys round here.
Straight to work. The project list is Huge. Firstly remove the two current engines and Sail drives and replace them with new ones. The old ones still work fine, however I got a good price on two new Yanmar 3YM30s complete with SD20 drives. About half the price they are in Australia so it was a simple decision to replace with new. That smile above lasted about 15 minutes, replaced with many profanities and the occasional tool throw over the ensuing weeks.
As hurricane season starts to wind down, its a procession of boats leaving the safety of the yard destined for the water so they can start cruising northwards up the Caribbean chain.
I spent days crawling through every nook and cranny of this boat. Replacing the freezers evaporator above.
I tried to dissemble the anchor windlass (winch) to do a little maintenance. It was that badly corroded it either dissembled itself or was seized solid. The sad thing is it still works fine, but not worth risking another 12 months with it.
Those corroded threads are where the mounting bolts once went. This was one expensive item I wasn't expecting to replace. The local chandlery, Budget Marine, saw me coming in twice a day dropping thousands of dollars and the discounts kept getting bigger and bigger as long as I paid cash. To the point they pretty much gave me a new windlass for nothing…. they felt sorry for me.
The old gooseneck was as clapped out as a retired footy players knee. The local machinist Klaus let me run loose on his lathe for half an hour to shave off a bit of material so he could make a new one from scratch.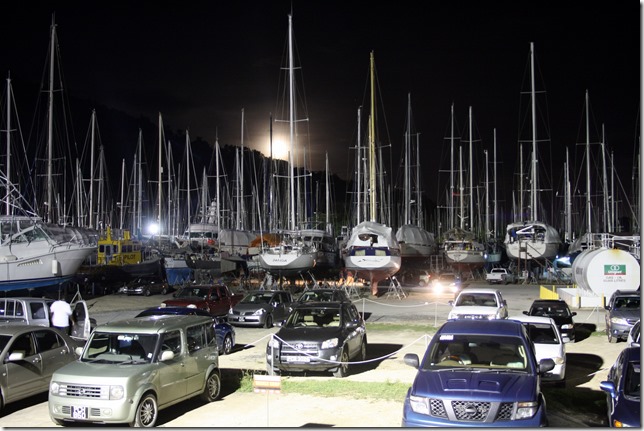 Full moon rising over the thousands of boats stored here over the hurricane season.
New windless bolted down and terminated.
Bucko was kept busy looking after the inside of the boat and servicing all 7 of the winches. Good work today Bucko
Liftoff… After about a fortnight juggling a few jobs, the old engines are lifted out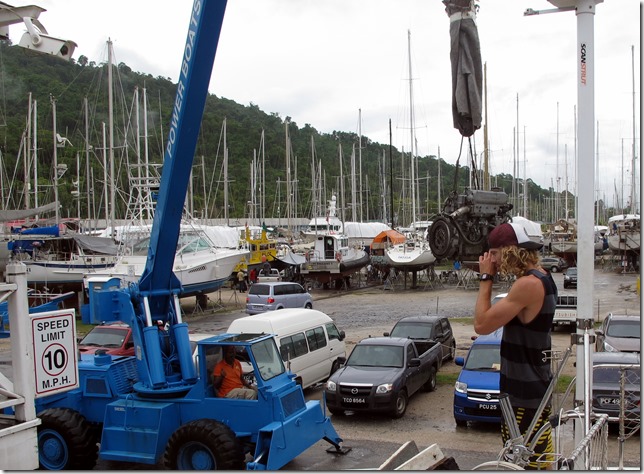 Crane driver "Now what?". AP "Not sure, you want them?" Craney "Nope". AP "Shit"
The very next day Santa swung by and offloaded these bad boys.
Basically the same engine. Just the newer model with a few extra HP, lighter and smaller.
In Trinidad, or the whole Caribbean really, they love to put signwriting all over their cars, so it wasn't hard to find someone willing to make up new names for a boat. The name change came about due to Australia's ridiculously strict, and expensive registration process. No two boats can have the same name on their register. So Mahi, Mahini, Mahi Mahi were all taken. The simple way around this is to just add a number on the end. Say Mahi IV. However they'd all been taken. Forced to make a name change, my first preferences of "Fish Fingers" and "Vertical Smile" were rejected, both by Bucko and the Australian Registration Office. Boo… So Cowabunga it is…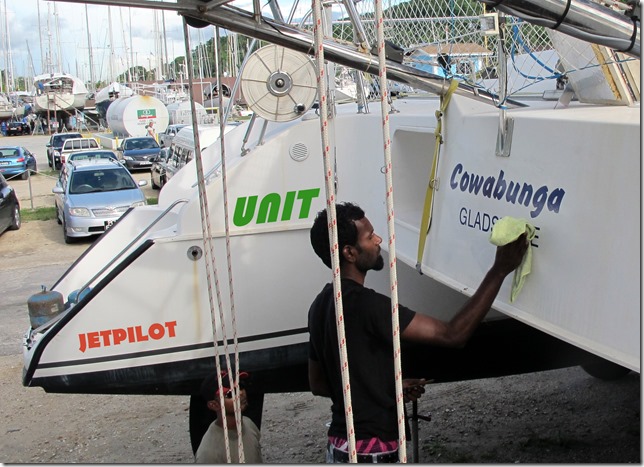 With the homeport officially listed as Gladstone. No mobile object associated with that town can move without having shitty stickers. And besides, everyone knows these stickers guarantee a few extra ponys out of the engines. Jetpilot and Unit are the most exceptional. 5HP each.
We met these 2 crazy brothers Graham and Russell at the sailing club bar. They are in the early stages of attempting to Kayak from Brazil to Miami up the Caribbean chain stopping whatever islands they run into on the way. 7 Months to do 6500km is no small feat. Check out their blog henrykayak.com. Hopefully we run into them further up island. On land.
Yachties love a good potluck dinner. Bucko, always keen to impress, did just that with everyone loving her creation. Its bullshit cause there's no leftovers for me
New saildrives straight out of the box and smelling fresh. Saildrives are a stupid name for the transmission/gearbox.
In go the new drives. Seating them correctly is critical, if the seal leaks, then the boat tends to fill up with water and sink. Not ideal
In go the new engines. I employed the services of local bloke Falco to help do the final bolt together and alignment. Mainly so if there are any issues, I am covered under warranty and Falco cops the reaming. Thanks Falco… In his hands are the spacers that slot in between the saildrive and engine so I can use the same mounting bolt holes.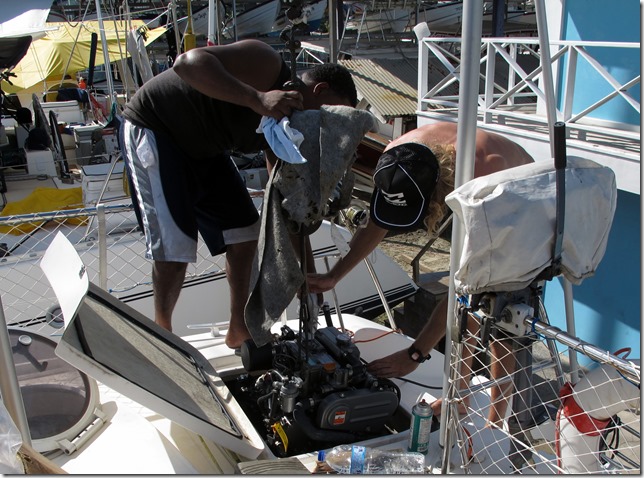 Gotta love a catamaran. Can remove and install two new engines in a matter of days.
New feathering props had arrived from New Zealand. These Kiwiprops are made of some composite material meaning they are light and don't corrode. Big plus. I think they fell off a Dash 8
Bucko antifouling the new saildrives and props.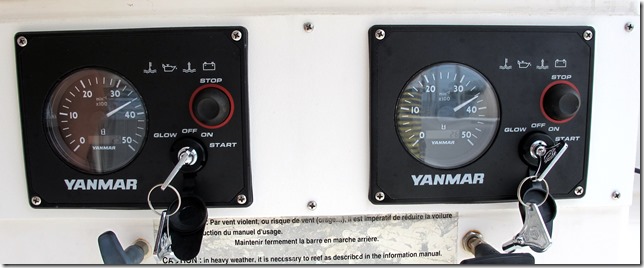 New shiny engines panels and wiring harnesses installed.
Making use of the excellent provisioning available in Port of Spain.
That should last a couple weeks…
We have been renting a car most weeks mainly to buy parts and provision, but we did find time to check out the north coast of Trinidad. Overlooking Maracas Bay.
After a solid 4 weeks working from sun up to sun down, the sails are on, the boat is washed, and we are ready to take a short walk into the water courtesy of a farm tractor.
Interesting lifting technique. Old engines and drives boxed up awaiting a new owner… hopefully.
Ricky helped me install a new thru hull for the watermaker intake. A really nice local bloke willing to give a hand on a few things and also supply fresh fish. I did give him the old dinghy for his troubles.
Bucko, Ricky and Falco enjoying the cruise on land. The boys were onboard for the launch to help out and make sure there were no leaks or problems from the new engines. But mainly for the cold beer at the end.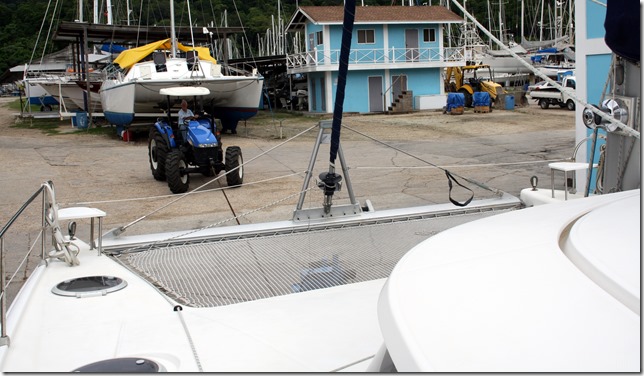 Don, the yard Manager, does the honours of reversing us into the water.
Fingers crossed as we wait and see if the sail drive leaks. But amazingly, no problems and the new engines fired up straight away. No strange noises, vibrations nothing. Just cool runnings.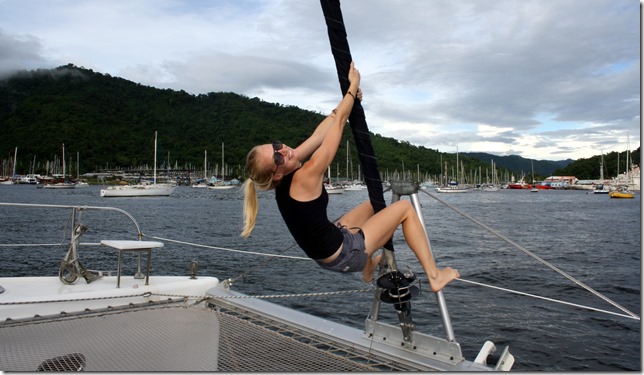 Bucko pretty excited to get on the water, but more excited because we are out of the yard, where the boat was 40 degrees every day and 300% humidity.
Looks good. Even with full fuel, water and food we still floating high. This means more room for important things like surfboards and the like.
The new AquaMaax watermaker fresh out of the box in all its glory. This converts salt water into drinking water by forcing salt water through a membrane at high pressure (Reverse osmosis). I spent a couple days installing this. Only to switch it on and find it passing salty product water. So the membrane housings were uninstalled. The manufacturers have been very helpful with new housings on the plane the next day. I think they just forgot to install the membranes in the housings…
Our new sweet ride. 10'6" of pure fibreglass pleasure built in Colombia. If some fucker steals this I am going to hunt them, and their family down. And with a 2 stroke 15HP Yamaha on the back, there's a lot of "Look at that!" "What?" "Back there.."
For now, we have left Chaguaramas in search of some well earned peace and quiet and find ourselves in an empty bay near the island of Chacachacare. It was once used as a Leper Colony for many decades which was abandoned after someone found a cure leaving the village to rot. More on that next time.