We left Bonaire one morning, bound for the San Blas Islands in Panama. This group of Islands lay some 650nm away, having us follow the coasts of Venezuela and Colombia. An area famed for its gale forced winds and the odd rogue pirate. We backed on it taking 4 days, it took longer.
Ollie pulls down the Bonaire flag. There was only a gentle 10-15 knot Easterly to push us along for the first couple days.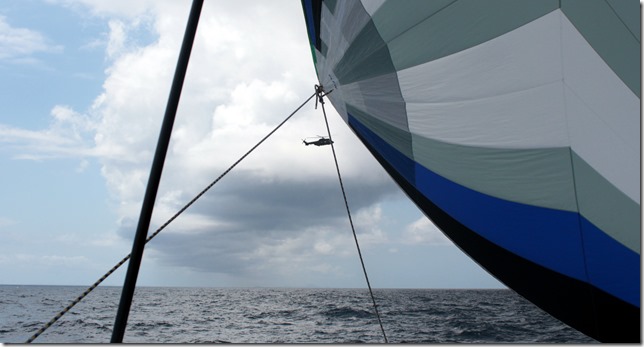 The Venezuelan Coast Guard kept a close eye on us. A lot of the worlds Cocaine comes through these waters.
We dropped the main and cruised under spinnaker alone later on day 1. We didn't pull it down for nearly 2.5 days. In that time, we didn't have to touch anything, other than adjustments of the autopilot. Definitely the best run I have ever had on a boat.
We talk a lot about the green flash. This natural phenomenon occurs when the last of the suns rays disappear over the horizon. For you who don't believe me, I managed to capture it on film… Unbelievable
These rocks would catch a few people out, you wouldn't even know they are there unless you zoom right in on the chart.
The sextant has been getting a workout around noon time. Even with this cheap sextant, we can get a plot within 20nm of where we are. Handy if all the satellites decided to fall out of the sky.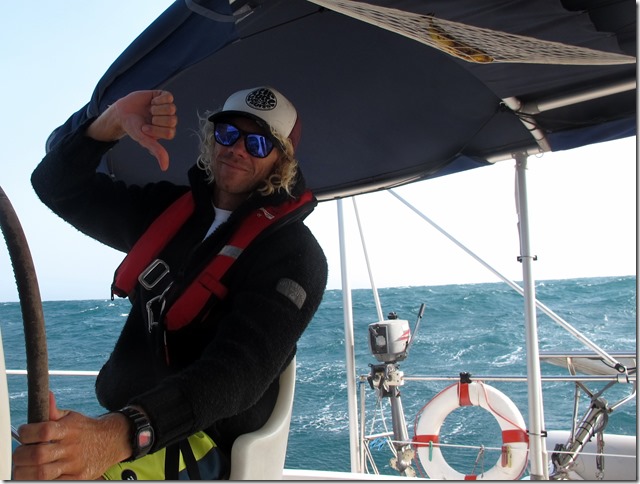 I celebrated my 29th Birthday at sea this year, somewhere off the coast of Santa Marta in Colombia. Right on midnight, the winds started… I decided I wasn't celebrating my birthday that day.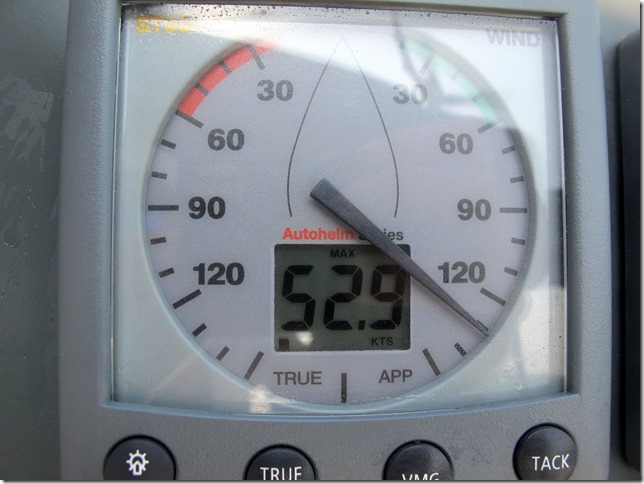 We went from 30s to 40s to 50s pretty quickly.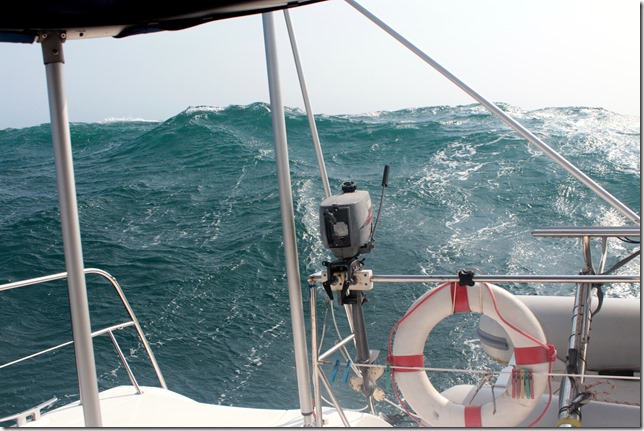 The swell soon made the autopilot useless, so we all took turns steering.
And the wind kept coming. For 12 hours it was solid 40s gusting to 50s. But the boat couldn't care less, surfing down the waves.
With the main in the bag, a small piece of Genoa was enough to keep us in control and hitting our target speeds to make landfall during the day.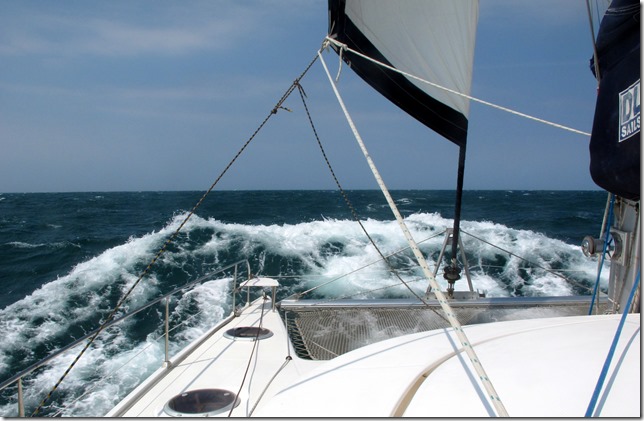 We stayed rather dry considering some of the waves that rolled underneath the boat.
This guy tried to run us over… AP "Hey mate, do you mind changing course" Ship "Sure we will change course"… 5 minutes later, AP "Hey umm can you see us" Ship "Is this the ship Voyager calling us?" AP "No dickhead, this is the yacht 1nm directly in front of your bow that you are about to run over" Ship "Changing course now". AP… The finger.
This plane made two passes over us off Cartegena. He was probably only 150 feet off the water both times. No markings on the plane. We thought it was a cocaine drop… and we were set to become the recipients…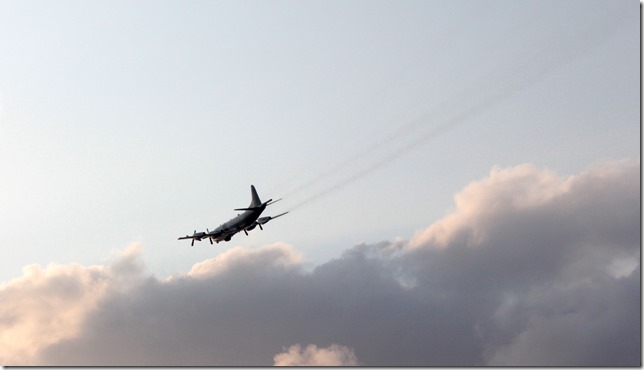 However it left us alone and kept searching for whoever he was looking for.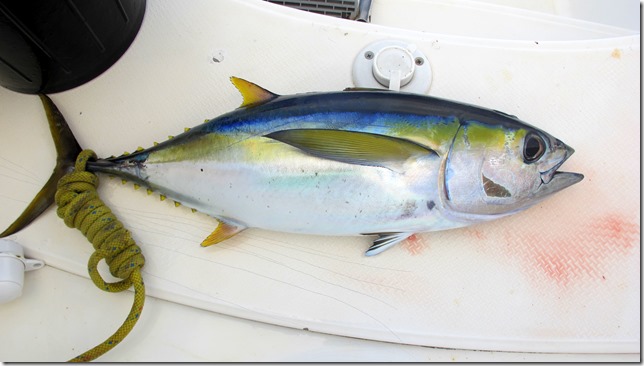 We dragged our lines all day for 5 days and caught nothing, it wasn't until the last hour of sunlight on the last day, the lines started going off. We landed 4 of these nice tuna, quickly stocking up the freezer.
The morning of our arrival into the San Blas, it was the 8th day my birthday was celebrated, so Bucko was busy in the kitchen whipping up Nutella crepes.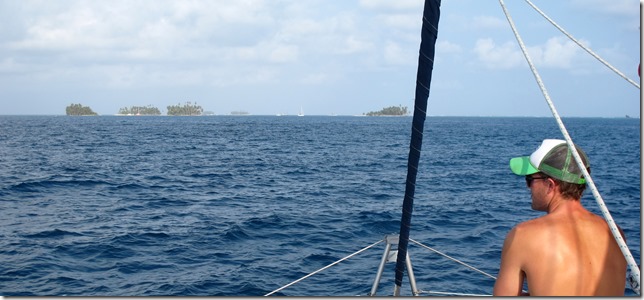 Ollie getting his first look at the San Blas Islands. We spent our last night under bare poles drifting, waiting for the sun to come up so we could see the reefs that surround the Islands. The charts are basically worthless, so we just navigated by sight. We only averaged 5.5 knots for the trip. But we didn't use the motors once.
Our first anchorage was the Coco Banderos Cays, an easy spot to enter.
The outer reefs are littered with wrecks. Some quite recent. This one has been there for many years.
After 5 days at sea, it's always nice to get some solid earth between the toes. And what better than an island about 50m2 in size complete with two palm trees.
These islands collect all the rubbish that drifts off the Colombian coastline
Ollie didn't have 1, but 2 bright ideas
Bucko always happy to be back on land
Lobster for my Birthday
And Sashimi…
And Cheescake… Lifes good.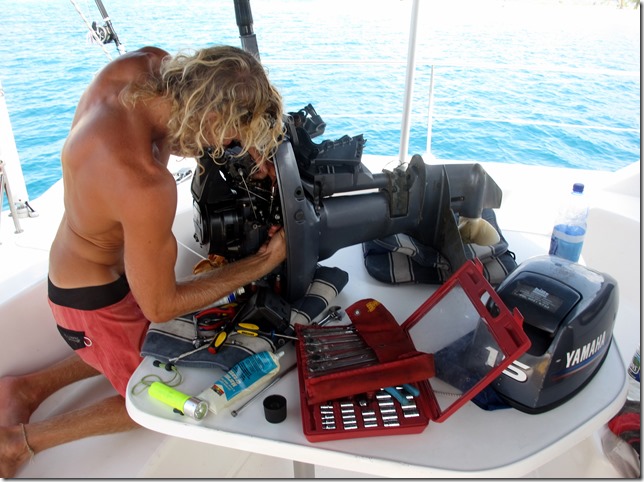 This photos for you Webbo… The whole anchorage could hear me carry on. "Fucken Japenese, with their small hands, how tha faarkk.."
The Kuna Indians have lived on these Islands for several centuries. Although they belong to the country of Panama, they are self governed and the Panama government is not allowed to interfere with their traditions. Since 1925 no Kunas have been allowed to intermarry with any outsiders.
They still live traditionally, but the change is becoming more obvious. And a lot of islands are now taking the opportunity to make money. Setting up basic accommodations for backpackers and charging $1 for tourists to use the beach.
Bucko doing her morning exercises
I had to duck up the mast to reattach the VHF aerial that almost blew away. Perfect opportunity to take some pics. Terry and his family from Sydney anchored behind us on his monster Lagoon.
Tiadup Island, where a caretaker family tends to the coconuts… and the tourists.
After catching up on some sleep, Russel Coight guided us out of the anchorage onto the Eastern Holandes Cays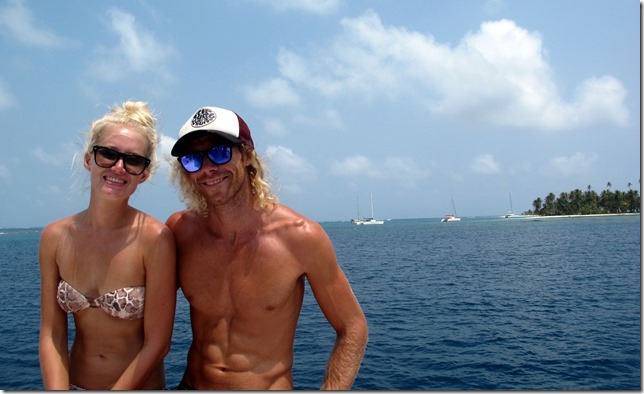 3 Years since we were last here onboard Squander. And we saw a lot of change in that time.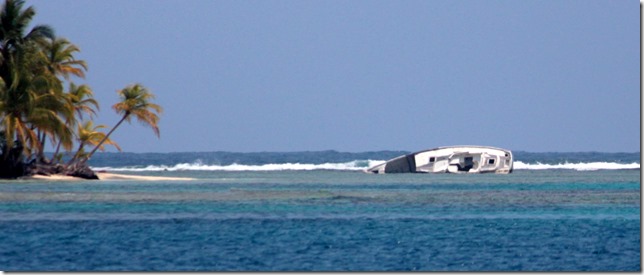 This guy clearly came in at night, just following his charts, which are about 150m out.
Ollie eyeballing the shallow spots as we feel our way in the appropriately named "Swimming Pools" anchorage. A beautiful anchorage with the clearest of water.
Just some of the hazards to try and avoid
East Holandes Cays
The water was teaming with sharks, stingrays and fish.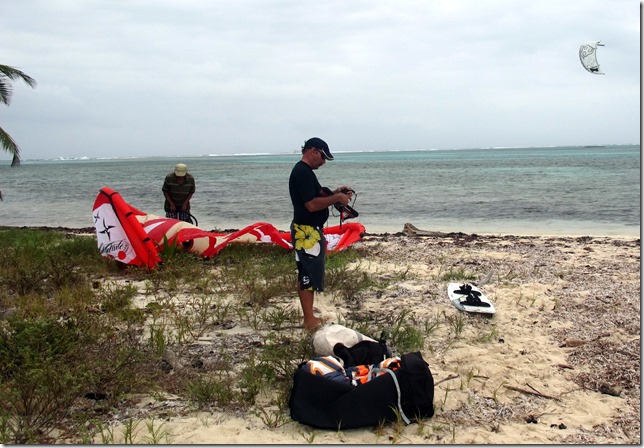 Luckily the wind was on its way up, and it stayed up for the next 5 days. We found an awesome little island perfect to launch off. Phil from San Diego had the same idea as us.
The local Kuna council have banned kitesurfing in the whole of the San Blas. And people have been fined anywhere from $150 to $1000. So Phil's idea of hopefully avoiding a fine, was to hire one of the locals to help him out. For $10 a day. We didn't have a contingency plan like Phil, so we ran the risk.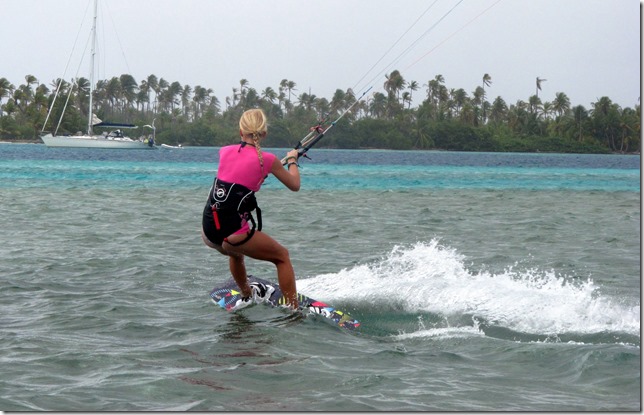 Bucko up and at it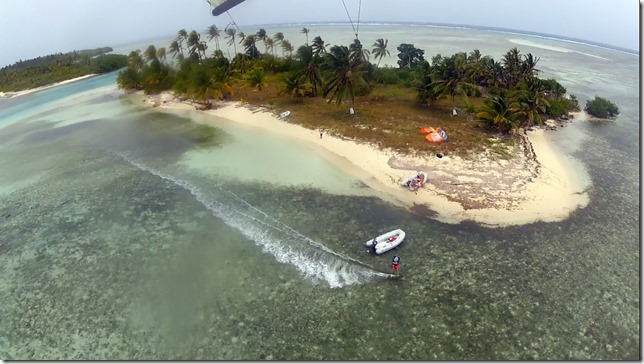 Our own private island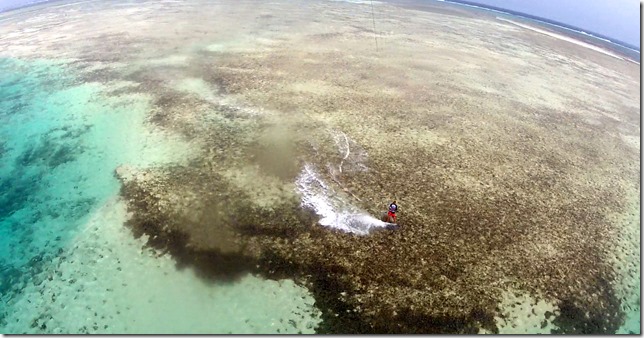 All the way to the outer reef is glassy water about 15cms deep with the reef stretching for 10kms in either direction. Perfect for exploring up and down the islands and running over the white tip sharks which are having a sleep in the shallows. If you get into trouble, you can just walk back
Afternoon sunset in the "Swimming Pools" Anchorage. I don't know if it because the American economy has improved in the last 3 years, but every anchorage was FULL of North Americans. There were no fewer then 20 boats in this anchorage, all were American or Canadian. The average age being atleast 60. We were certainly the outcasts, barely receiving a wave from anyone, let alone an invite to Peggy-Sues Dominoes night, or Chucks and his buddys pot luck dinner.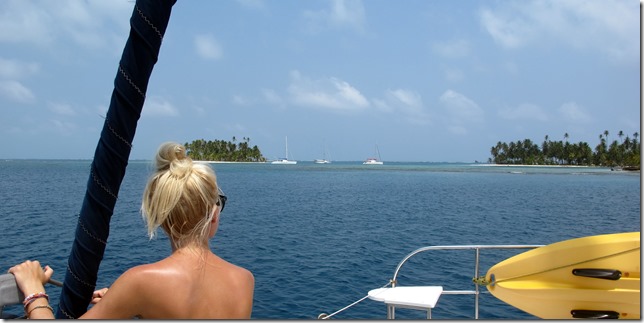 After a couple days in the Holandes, Phil told us to follow him to an even better kite spot in the East Lemmon Cays. We had a nice sail there and just had to follow him through a pass with water 1.5m deep. We draw 1.4m.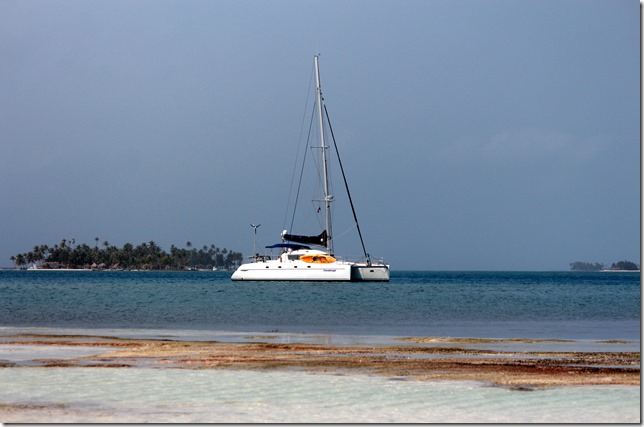 Cowabunga on standby at Yansaladup Island, anchored in a couple meters of water. Away from the crowds, sharing the anchorage with one other boat.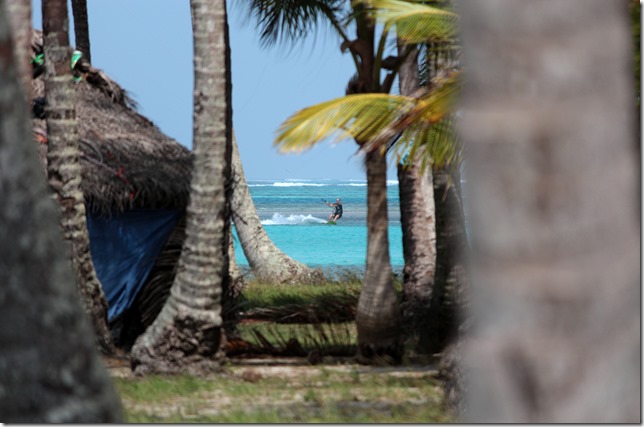 Phil kiting on the upwind side of the Island.
Ollie off to explore the half built house across the bay
Bucko back in for a spell
Well earned beach beers at the end of the day while Phil tells us tall tales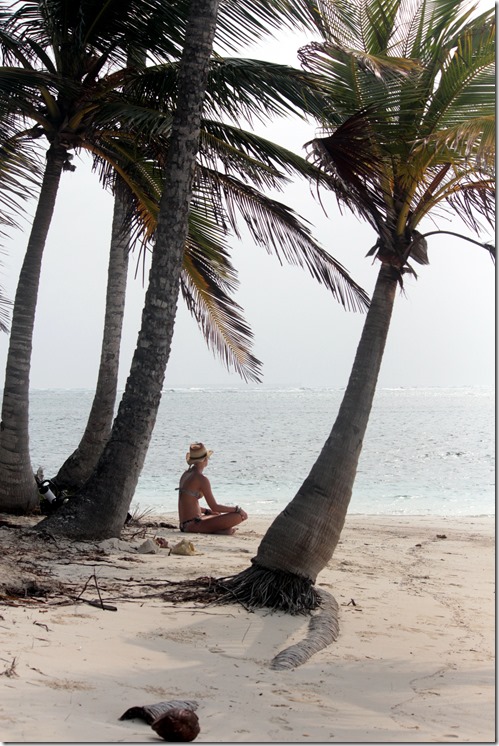 Bucko gazing off into the distance
I was enjoying myself, until I saw Ollie waving frantically on the beach…
Our luck finally ran out… The Kuna tourism boss with fine book in hand giving me and Phil a lecture. I pretended to speak even less Spanish than I do, and told him I was leaving tomorrow (lie) and I wouldn't pay the fine anyway. So we came to a compromise. Instead of a $150 fine per kite, of which we had 3 pumped up between us. He charged us $50 which then allowed us to kite for a month. Pretty good result.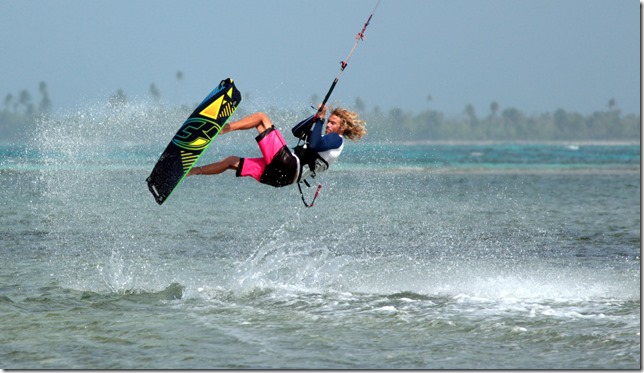 That gave us reason to celebrate.
The Vege boat made an appearance, after nearly two weeks of no provisioning, fresh food is in short supply. These guys carry everything from fruit and veg, to beer, wine and eggs.
Happy days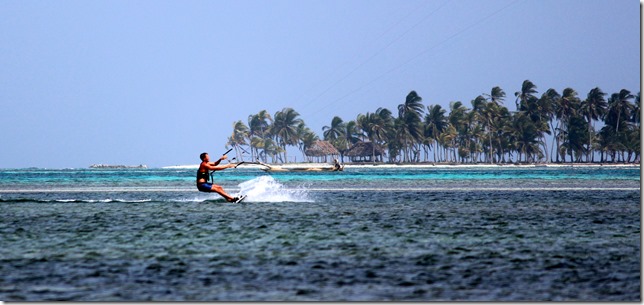 Ollie powered up… We spent 3 days in the East Lemmons kiting, before the breeze started to fizzle and we made a move.
Next stop was over at the West Lemmon Cays. Mainly because the Elefante Bar is the only place in the area which has an internet connection. I needed to organise the hauling of the boat and start the process for the Panama Canal
The local Mola lady came aboard to show us what she had made. She's also eyeing off Trev to upgrade from her dugout. I told her she was dreaming.
The Kuna women hand stitch layers of different coloured fabrics on top of each other to produce what is called a Mola. Which they then flog off to tourists for top dollar.
She brought along someone's children to keep us amused. She did make $80 out of us, and then asked for lollies for the children. Of course I gave her a handful of chocolate. Of which, she gave one each to the kids and pocketed the rest… Mean Ol Bitch.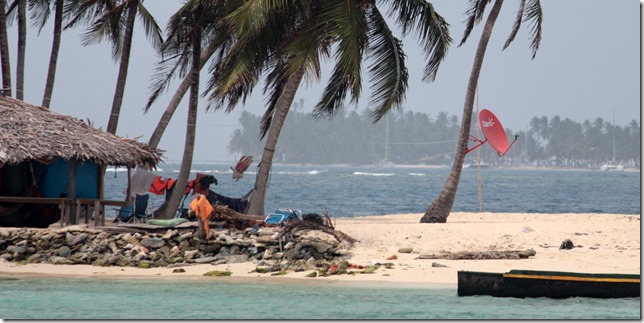 What better place to mount a satellite dish than on a Palm tree. Won't be long till every family has generators and Sky Television
We decided to head to Dog Island for a few hours. A popular spot where day trippers flock from the mainland.
Cowabunga in the anchorage next to another Canadian boat.
An old Cargo ship was beached here 40 years ago.
It had some of the brightest coral I've ever seen. Reds, Purples, Yellows, Greens… Boat must of been full of LSD when it sank.
Inside the cargo holds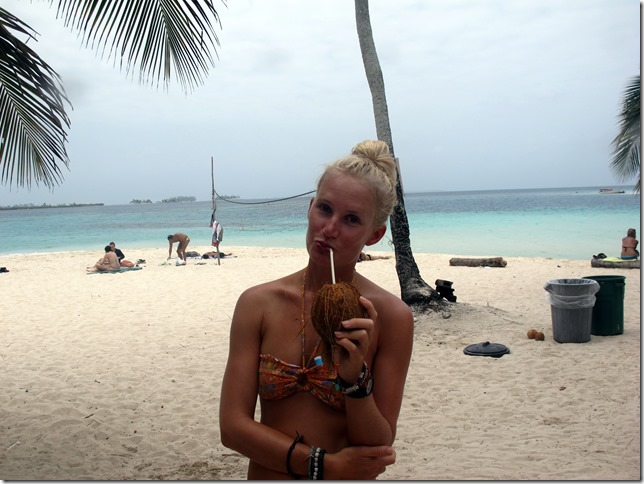 Bucko enjoying a refreshing coconut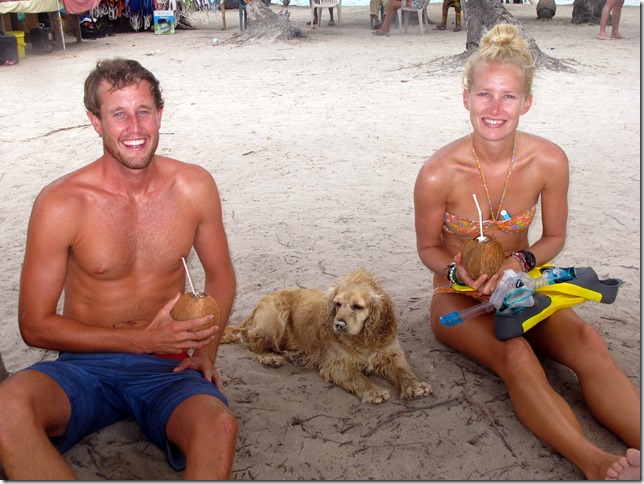 Beach dogs flock to us like we are their owners.
Our next, and final stop was Chichime. And what a difference 3 years has made. This once sleepy island that had families living at either end, has had the front 50 metres cleared and a dozen or so guest huts built with hammocks inside. Including a well stocked bar. Last time we shared the anchorage with 3 boats, this time there must of been nearly 20 in there at one stage.
This is me and Negra on the same beach 3 years ago… at least some things never change, the beach dogs… and that youthful face.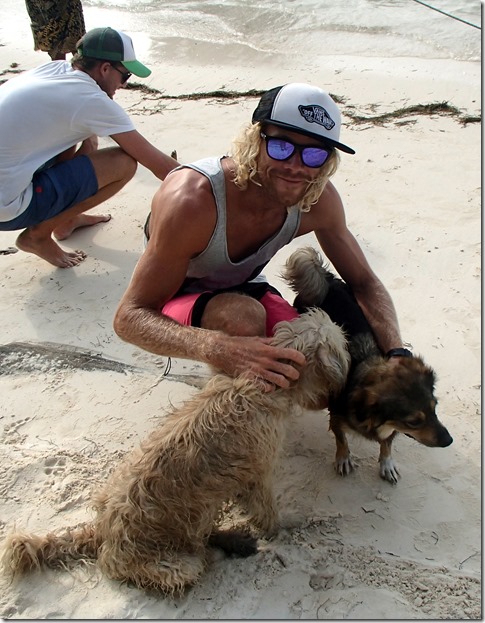 Negra and her mum Kula are still here looking after the place.
Bucko getting reacquainted with Negra and Kula. Negra wasn't the same energetic, innocent young pup we met last time. A tired mother would be a better way to describe her
Because she'd given birth to her own litter of beach dogs.
Bucko trying to take this one home.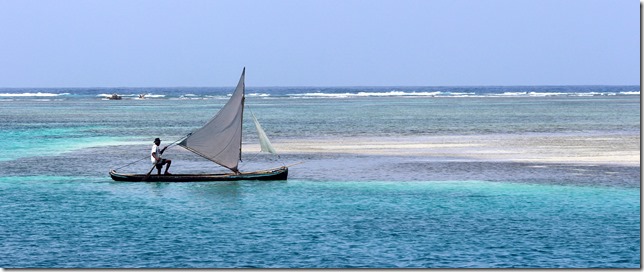 The Kuna transport mode of choice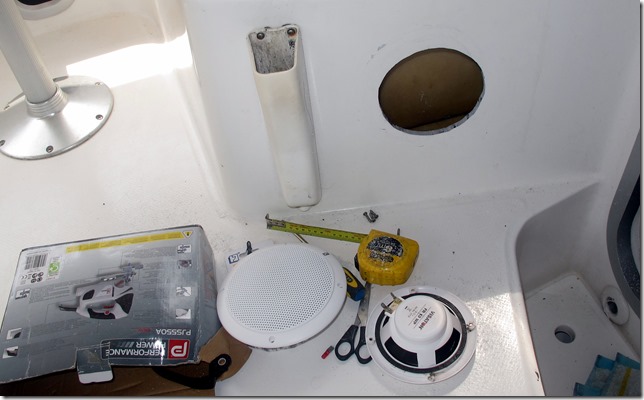 We weren't pissing enough people off in the anchorage whenever "Your the voice" by Farnsy or "Kokomo" was being played and sung along to at level 10 volume. So the shitty 5 inch speakers were upgraded to some fully sick subwoofers.
We left Chichime, and the San Blas Islands behind us early one morning, and made for the town of Portobello for the night just to check it out.
The church of San Felipe houses the Black Christ of Portobello, a wooden statue of Jesus. Apparently a lot of miracles have been attributed to this particular fellow.
The road up to Captain Jacks Bar is littered with street dogs
We left Portobello in the morning, bound for Shelter Bay. Where we have to do some work to the boat. I've been scrounging the shoreline looking for a suitable piece of Bamboo to make a whisker pole for the Genoa. The thing works better than I would have thought. Still on the lookout for a longer one.
As we neared the entrance into Limon Bay, the dolphins came out to guide us in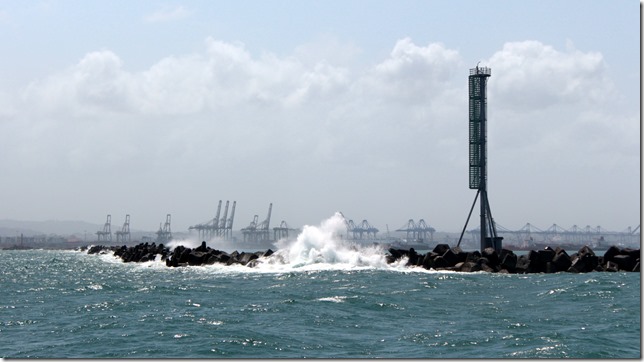 The several mile long break wall which protects Gatun Locks, the start of the Panama Canal
There are shitloads of ships waiting inside, and outside the break wall for their transit time through the canal
The engines are finally broken in, hitting their first 100 hours.
Parked up on the dock in Shelter Bay Marina. We have allowed ourselves 2 weeks to haul the boat, get the work done, provision and head through the canal. We have 3 new crew members arriving in the next week. High school friend Chook, another mate and fellow surfer Horse. (Yes their names are Chook and Horse). My old man Rossco is also joining us, to bump the average crew age up a little (30 years). Unfortunately, Ollie is leaving us, heading to the land of 'Oh my Gods' (USA) for a few months of road tripping across the country. We plan to transit the canal on the afternoon of the 10th and will keep people informed so they can watch it live via the canals webcams.