We pushed the boat hard to get to Customs on Friday afternoon before they shut up shop for the week. We arrived just in the nick of time and got the paperwork sorted. We saw no fewer than 20 whales on the way into Vava'u, some only 20 metres away… showing us this years whale season was an exceptionally good one.
The early encounters
The yellow "Quarantine" flag is flown when we first arrive in each country. Indicating to customs that we are not cleared in and potential carriers of diseases and other contraband.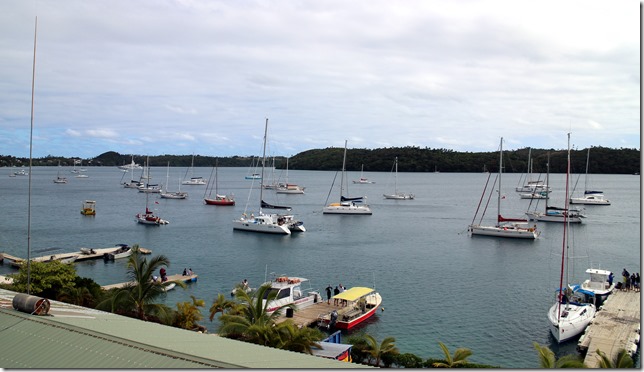 Cowabunga in the middle of the moorings in Vava'u harbour up the northern end of Tonga.
The fruit and veg market was really good and inexpensive, a welcome change from French Polynesia and the Cook Islands where capsicums where over $20 a kilo.
Whale watching is big business here. And its not like Australia where you sit on a boat with a bunch of Japanese tourists and go "AHHHH" and "OHHHH" every time a whale appears on the surface. In Tonga, you charter a boat and you jump in with them. At $170 a pop it isn't cheap, but after seeing another cruisers footage, we couldn't sign up fast enough.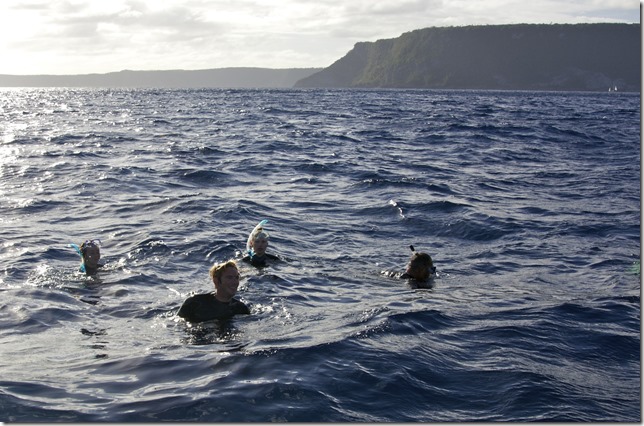 With local guide in tow, they limit it to 4 a time in the water – So in went Bucko, Jono and Hannah and let the good times roll
The pictures speak for themselves as to how close we were, close enough to hope that they are as friendly as they appear.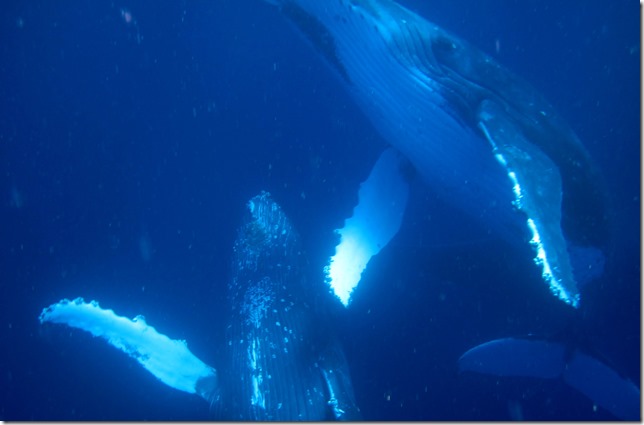 We saw two males dancing with a female. Obviously trying to pick up some sweet whale puntang
You have to be on your game, they don't wait for you, so you have to swim pretty hard to keep up. The whales are here to mate and give birth in the warmer waters. They don't eat once they leave Antarctic waters. Meaning they don't eat for 6 months – Jenny Craig could learn a thing.
Jono getting photo bombed by a 60 foot humpback whale. Sneaky fucker.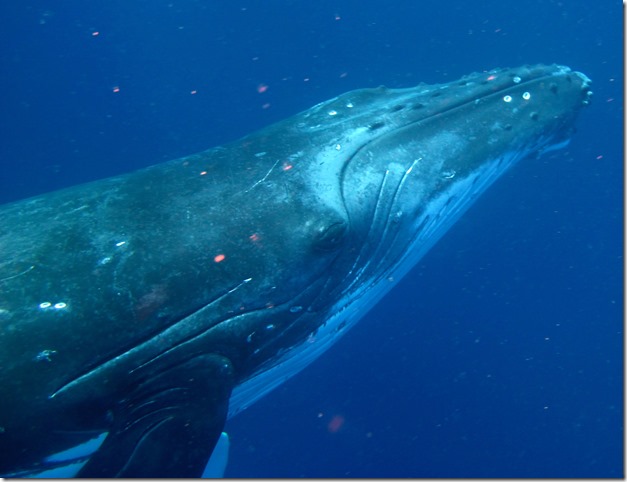 A wink for the camera. The whales weren't bothered by our presence at all and were more than happy to have us around. The Greenies and Environmental losers at home would never let anything this fun happen in Australia.
Several years ago I was spearfishing off Cape Moreton and two Humpback whales swum underneath me in shallow water before one breached right beside me. Not expecting it, I shit myself. This experience was a lot more relaxed.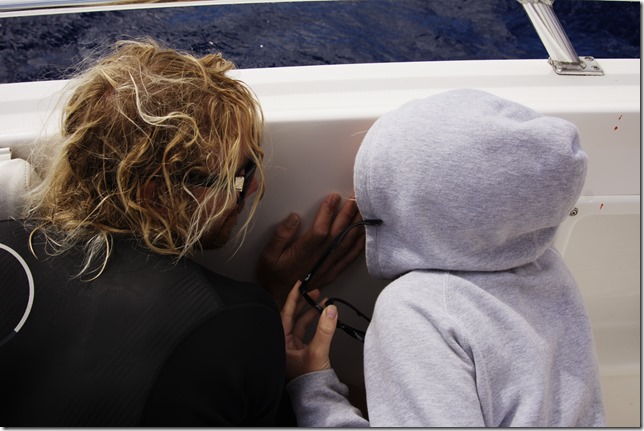 We came across a male who was singing underwater. With ears pressed to the fibreglass hull of the boat, you could clearly hear him serenading chicks.
He would take a breath, dive down and sit motionless for 10 minutes about 10 metres below the surface. This allowed us to sit still in the water and relax. He would then go through his complete composition, trying to put you to sleep. The deeper notes would really rumble through your body. After that, he would come up for a breath and repeat.
A goodbye to our singing friend. After a few good runs swimming with them we got out of the water and tried to warm up. The water temp this year was a couple degrees colder than normal, which is why there were so many whales around.
We stopped off at Mariners cave on the way back to the dock. A cave which you have to dive down a few metres and swim through the entrance into a fully sealed cave.
After lots of "I'm Going… no I'm not" from Bucko, she built up the courage to swim down and into the cave. Keep in mind she had just swum with a 100 tonnes of Mammal.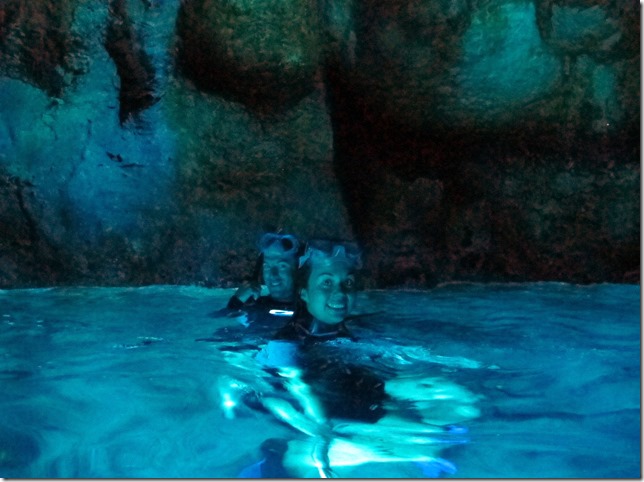 Jono and Hannah inside the cave. Every time a wave would come, it would increase the pressure inside the cave, pop your ears, and turn the cave into a cloud… science
Tonga provided a cheap way to fill the boats gas bottles. To do so, you have to take the back entrance, walk around the entire plant and convince the guy to fill your rusty, non-compliant or non-compatible bottles
No adapter or fitting for our European bottles??? No problem, use a bit of cardboard as a seal and slip the guy an extra fiver at the end for his troubles
Not hard to imagine why its been zero days since their last accident. Probably blew someone up earlier that day.
Every afternoon we'd venture to some local establishment where happy hours beers would run for a couple of bucks. Nice to drink cheap beer again.
Jono tries to remember what cheap beer tastes like… or disgusted with the local drop.
One clear calm day, Bucko and I went off to explore the Clan MacWilliam Wreck. A 400 foot steamer that caught fire and sunk in the harbour nearly a 100 years ago.
Its pretty deep, sitting in about 35 metres of water. Looking along the side of the hull
Several people died in the accident, making it that little bit eerier peeking into the dark corners,
The winches still in tact at the bottom of the wreck
A scene straight out of Titanic.
The decks are starting to collapse into the hull, giving a great look inside the beast
Hannah had been struggling with a stubbed toe that had been getting a little wild over the previous few weeks. Luckily we met Doctor Don off the boat True Blue, a plastic surgeon from San Francisco. He offered to come over and "Clean it up" for her. What can only be described as NOT-minor surgery, he probed and cut her toe over a few days until he was happy. Hannah, with virtually no anaesthetic, drank a gin or two and put on a brave face. In the end, perfect results. Thanks Don
The street dogs in Vava'u were by far the mangiest mutts we've met along the way.
Still gets a scratch…
With Salv on Whale watch, we leave the town on a glassy day, in search of our own private slice of paradise…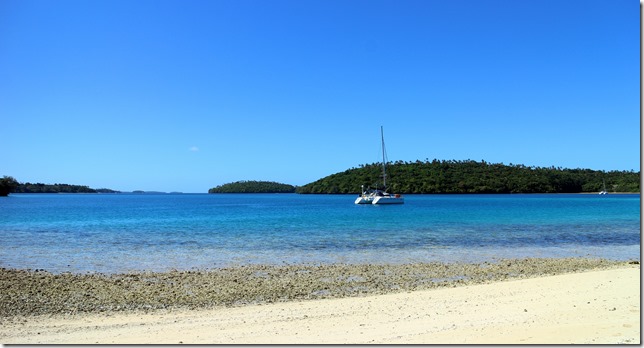 Success… Cowabunga in a pond surrounded by coral reef with a beautiful white sand beach nearby
The soccer world cup may have come and gone, but Tonga FC is preparing for the next one.
Burning man was all over our Facebook feeds. Not to be outdone, we created our own effigy, with plans to burn the shit out of it.
Bucko and I got an afternoon dive along the Coral Gardens on the offshore side of the anchorage.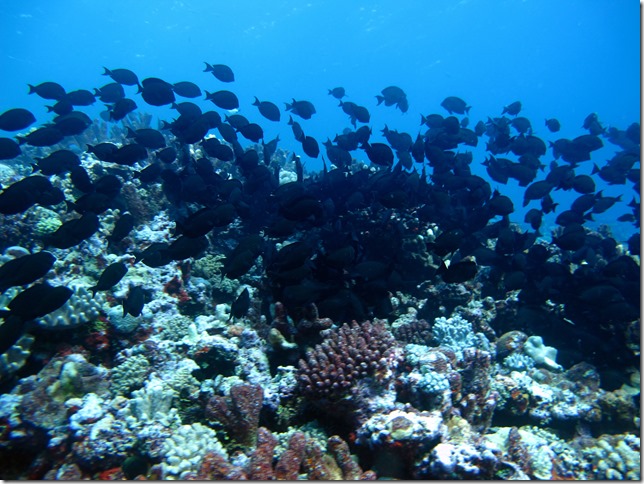 While I was busy taking this photo I could hear Bucko SCREAMING underwater. I turn around to see two whales only a few metres away.
By the time I realised what was going on and fucking around on the camera, this was the best I could do looking into the sun. It's a great experience when you're NOT expecting to see them.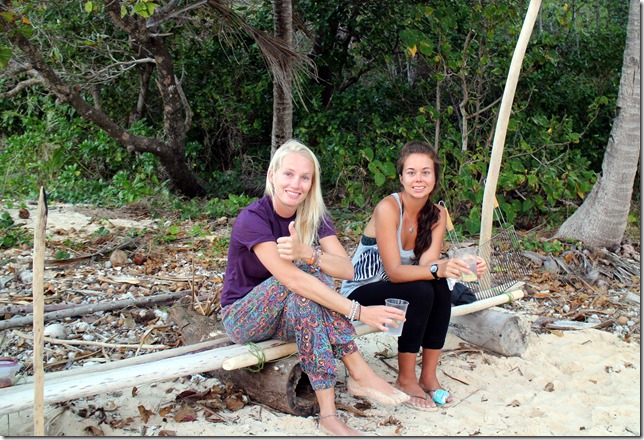 That afternoon we took our drinks and fresh fish to shore and lit an over extravagant fire
Fresh Mahi on the Grill with side dish keeping warm next to the fire
Tonga Burning Man 2014
Did I mention how many drinks we had?
Jono and Bucko doing some flash photography, writing Cowabunga with torches
Trev,complete with GoPro, became Salvs mission mode of transport,
Salv was also our professional food photographer whilst on board, in preparation for Buckos future cookbook. Entitled "How to feed a shitload of hungry boys on a boat and no supermarket for 1000kms" – It's a working title…
The placement of the freshly baked bread in the background is no accident.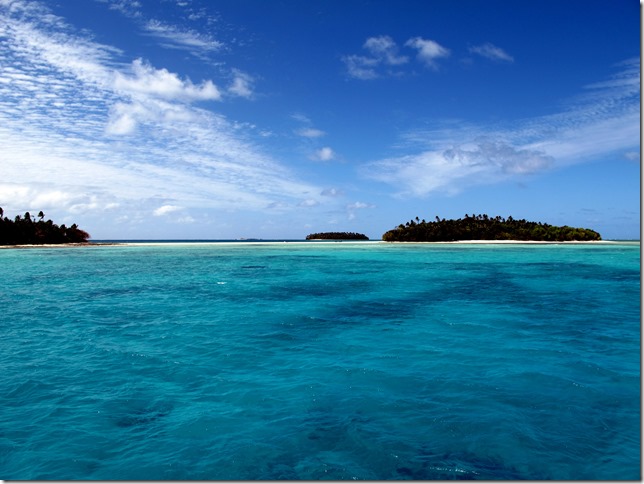 We got a tip for a great kiting spot not far from where we were. We went off to explore
Bucko straight into the most strenuous part of our lives… pumping the kites up
The sand bank provided plenty of flat water but the wind angle was good, not great.
The next day we came around the other side of the island where it was a bit more protected. This side provided miles of knee deep water and perfect wind.
Probably in the top 5 kite spots of the trip so far.
So we spent most the day out on the water. The shallow water was great for Jono to start learning again after not having a crack for a couple of years.
As the sun was setting, Dr. Don and Leslee invited us around to their beautiful yacht for dinner. Our time in Tonga was drawing to an end, we needed to get moving to Fiji. So we headed back to town and got ready to leave the next day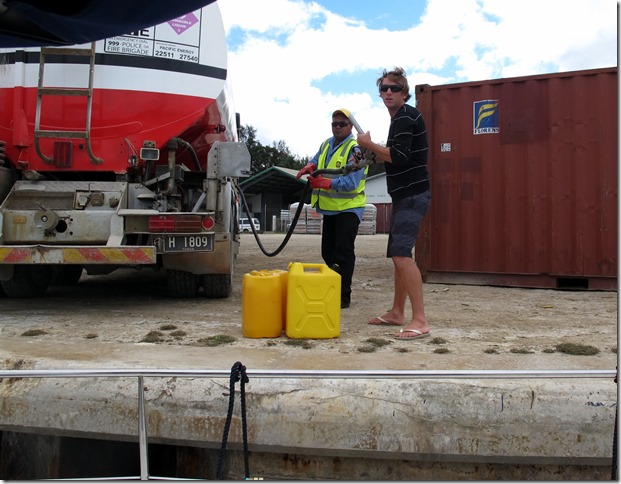 Duty free Diesel was on offer after we cleared out of the country. At a $1 a litre, it's a good excuse to fill the tanks. I requested the minimum amount of 200 litres, so they send a 300 million litre tanker down to do the job. We haven't had to motor at all over the last few months, meaning we still had fuel from Panama floating around.
Tonga was also the end of the road for Salvy, as we cleared out, he prepared himself for the 3 flight mission to get home from this remote island to Brisbane. Salvy spent 5 weeks on board covering no less than 2600kms, which included some pretty horrendous open ocean conditions and some of the more remote parts of the Pacific.
Hooroo Tonga…
Not long after we left Tonga the Albacore Tuna were on the chew.
Tuna Number 1
Tuna Number 2. Have I ever mentioned how much fish we eat?
We had beautiful conditions for the 430nm trip to Fiji. Another sunset marks another day closer to Australia
Bucko always claims the watch that coincides with Sunrise. Here's the reason why. Leaving me and Jono to do the shithouse graveyard watches.
Wind straight up the bum, and 2 genoas are set to keep us moving nicely.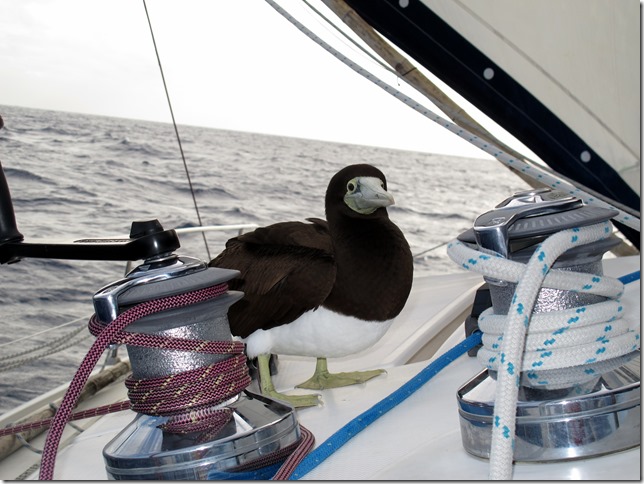 A day out from Fiji, our good friend, who goes by the name "Squarky", came and visited us. We tried feeding him various things, including fresh Tuna, but he turned his nose up at them
He just tucked his head in, and went to sleep for the night. Unfortunately for him, we had to do some sail changes in the middle of the night which involved moving the rope he's standing on. He wasn't happy at being rudely awoken, taking a swipe at me. He got back at me by shitting all over the boat.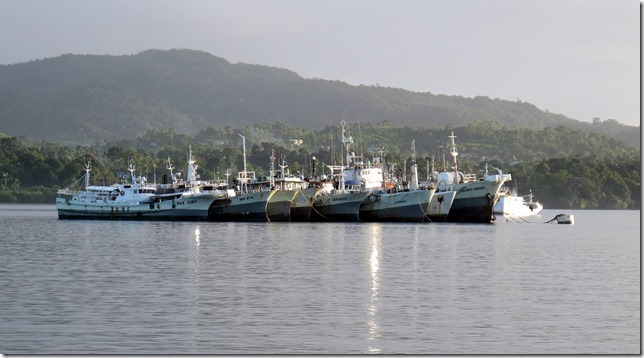 We arrived into Suva, the capital of Fiji early on a Friday morning.
While waiting for Customs, Immigration and Bio Security to come and visit us, I started cleaning up Squarkys shit, who was still on board and happily watching me on. After nearly 24 hours on board, he just disappeared without a word of thanks for the 300km lift we gave him.
Jono flew home for a few days to visit family, while me and the girls got the boat ready to cruise Fiji. Fiji has some of the best surf, kite and diving in the Pacific… More on that soon…